Last updated on February 7th, 2023 at 05:08 pm
If this is to taunt or to be honest in your friendship, these are funny backhanded compliments for friends. 
It might lead to a fun argument with them. 
You can also use them as comebacks when your buddies try to make fun of you with mean comments. 
Funny Backhanded Compliments For Friends
With friends, you're always looking for a chance to make fun of each other. 
It's not actually hurting each other's feelings.
But it's just a way to keep friendships alive with crazy and weird friends. 
Whether you want to make fun of your friend's odd habits or tease them for their failed relationships, your friends laugh hearing such 'compliments' for them. 
Take a look at these funny backhanded compliments to share with your friends when you don't have anything to say during a heated argument.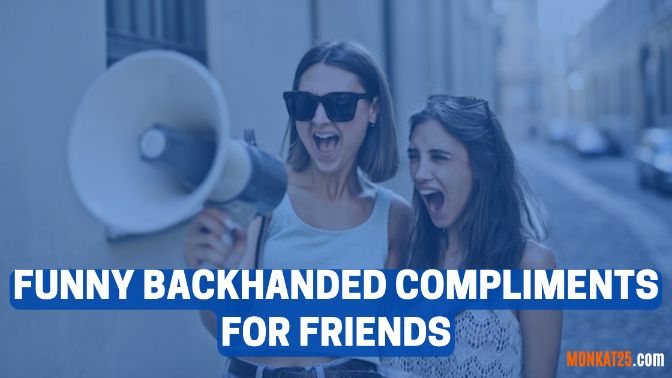 1. "I thought you won't come here without being invited. But I'm happy to see you here." 
Be sure to give proper expression while saying this, like you're surprised or really happy. 
2. "We are not ignoring you. Even though we want to, we can't bro." 
Because of this, your friend is easily recognizable among your group, yeah such a unique species. 
3. "I like your apartment, small yet too comfortable." 
For better impact, you can say this while leaving their home to enjoy a Saturday night sleepover.
4. "No matter what you say, you're really lucky, my friend." 
Indeed, they're lucky that they have everything,… even they have a friend like you. 
Read Next: Good Two Truths And A Lie Examples
5. "I don't want you to cry, but when you cry you look like a cute baby."
The baby that you won't stop crying until he gets an ice cream or a bike ride.
6. "What a great time there was when you were such a good friend."
Not denying, time changes, feelings are fed away… and your friend also have to change. 
To describe the level of your friendship, this backhanded compliment is the right one. 
7. "When someone has a friend like you, they don't need any haters."
This is what you can say to a friend with whom you have a love-and-hate relationship. 
8. "You paid the bills? I mean you paid for it. Where did you purchase the purse?"
We all have a friend like that. 
But when they do it for the first time, make sure they're appreciated well even backhandedly.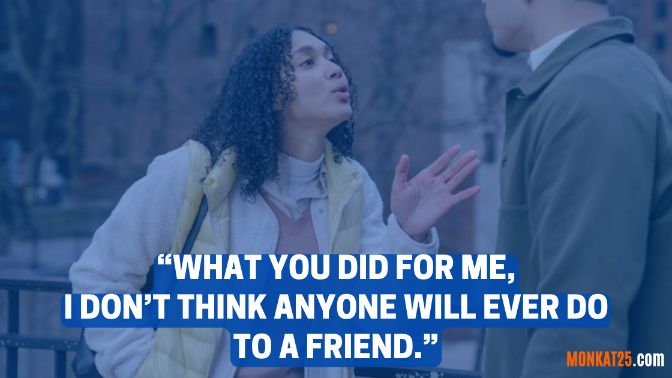 9. "What you did for me, I don't think anyone will ever do that to a friend."
You can also add that, you wish no one has a friend like them, to make it even more hilarious.  
10. "It's simply hard to ignore you, you are available anyway."
Maybe your friend is too nice or too controlling in your life. 
Let them be aware of the fact with a backhanded compliment like this. 
11. "You're a very interesting person but no one has time for you." 
How come a person could be fun to be with and still you can't take time… do you mean they're a boring friend? 
That's what I see here. 
Read Next: Funny TikTok Matching Bios For Friendship
12. "I like how you're ready for the cringe things to do to make us smile."
Thank them in a fun way for being a clown in your friend circle.
Whether you enjoy their craziness or not, every group needs someone like this.  
13. "How can anyone be so mean to you, I know you don't deserve that."
Because you know this friend is completely unaffected by senses and logical things. 
Here you comfort your friend to relax and not take anything over their head because they don't deserve such things. 
They need just the next level of insults.  
14. "I like your confidence to wear this at the high school party."
If you and everyone in your friend circle have to suffer a lot with such an odd friend, this backhanded compliment to give them. 
At least you should appreciate your friend for such a level of guts.  
15. "Before, we met we were really scared of you till you say your first word."
Well, the first impression of this friend was a bit intimidating and scary to you all. 
But later as you get to know each other, you find that this person is quite easy to connect with and his low voice helps you not be afraid of him anymore.  
Read Next: Hookup Messages To Text Your FWB
16. "No, no this isn't for you. But for us- the normal human beings."
Tell your friend is an alien, without telling that your friend is an alien.
Btw, how did you come to know that your friend is out of this world?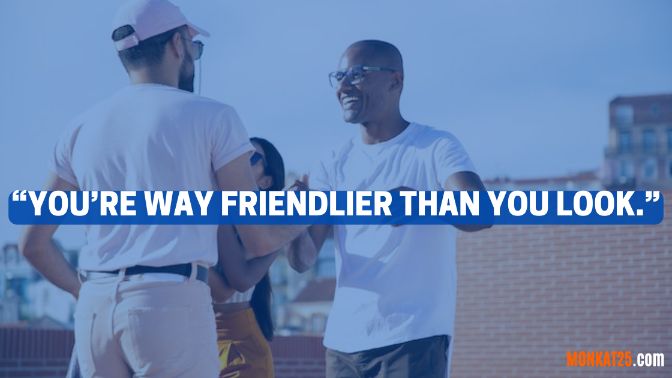 17. "You're way friendlier than you look."
This is a fun backhanded compliment to give a friend who is giant, but gentle with heart. 
You can also make kids around and not be afraid of your friend despite his big head!
18. "You might do anything for us, but you make us laugh!"
This friend might be a funny guy but just doesn't offer anything to friendship. 
Just they don't get a chance to do something. 
This friend is good to have for some time pass and not for any help or on a serious matter. 
19. "I'm still not forgetting how great things you did for me, do you forget that all?"
This is a secret hint to your friend that you've not forgotten, how he almost tried to steal your girlfriend. 
Your friendship is never the same way that day. 
It's just a constant reminder.
20. "How can I insult you, you're my friend, after all?"
When you are insulted, you can hide it with this backhanded compliment to a friend. 
As it clearly shows that you don't even consider this person as your friend. 
Because if you do, you haven't insulted him/her, right?
21. "I'm really nothing without you, you're the reason for everything in my life."
Here, you mean to say every positive (and mostly negative things) that happen to you… this person is the reason.
Your life is mostly about them and not you.
This is such a compliment your controlling friend deserves!
Read Next: Reasons It's Okay To Not Have Friends At All
22. "You're strong no doubt, just you haven't found where to use that power."
Let your bully friend know that you really appreciate their strength.
Instead of putting others down, they could use it for some good purpose.
Better give them hint when there's a chance.
23. "So finally, where have you been? We don't even try to find you, because we know you will find your way out!"
It was all your plan to make this friend stuck somewhere and just leave. 
You know this friend is also smart enough to get their way with you, somehow, so you don't care to search for him. 
That proves you're not a careless friend, but trust your friend's ability better. 
Read Next: Bumble BFF Profile Ideas To Make Friendship
Make Sure Any Backhanded Compliment Won't Hurt Your Friendship. Use It For The Fun Part!
Well, so you have all the funniest backhanded compliments for friendship, now.
Next time, when your friend makes fun of you or tries to target you together, you know what you can say back. 
You're really lucky that your friends are the ones with whom you can share anything. 
Enjoy free time with such funny backhanded compliments for friends, it's all about starting a hilarious conversation that involves everyone and embraces your weirdness within. 
A  'sense of humour' is what matters in the end!