Are you thinking of a way to make your day better?
Want to welcome the new day by doing something that fills your day with great excitement and joy?
Then there is something mostly the small and simple things that offer you a chance to start your day like it really a 'new day'. 
Simple Things To Make Your Day Better
If you are aware of not, it takes nothing great to make a perfect start of a day. 
Indeed, you want your day to start with a fresh morning and with that idea of what new is coming to you.
But, to make it feel that way you need to do something.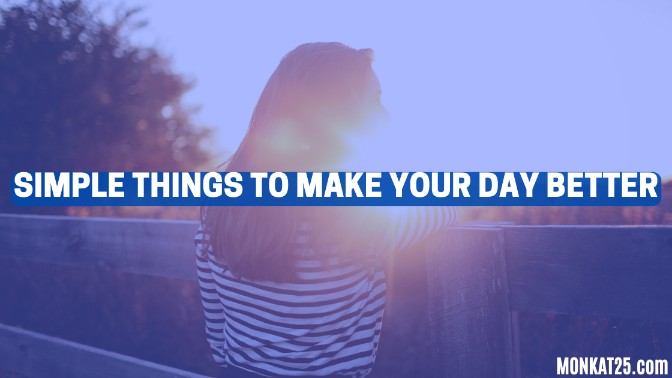 1. Take a paper and write something that you like the most about yourself.
Do anything to make yourself feel good about you, yourself. 
2. Prepare a list of what you're grateful for in life. 
Never forget that your life is already more perfect than you ever know. 
Having a big goal is fine, but you also must feel thankful for what you have in life. 
3. Ask yourself what is something about today that you're excited about. 
Give yourself some exciting things to do that can make your day better. 
The goal is to have something to do for yourself. 
4. Try new clothes and style yourself more uniquely than usual.
This is to make yourself feel more confident about yourself. 
You can be bold with your appearance, but who cares you just love yourself.
5. Take a look at your to-do list and change the schedule to feel the change. 
When everything feels the same every day, you can arrange things at different times. 
6. If you're doing something every day in the same way do it in a new way. 
It's not just about the time, follow some creative ways to do something. 
You will find this thing interesting like never before. 
7. Go to a bus or metro to your work, instead of driving your car today. 
Who knows you might get to meet your old friend or your new crush.
8. You might listen to your favorite music; this time hear some old songs. 
That music will bring you into the old time, maybe it's time to rewind good old times. 
9. Fix your dating profile and believe that you could meet someone like you. 
Be more approachable, and trust that there's someone who is looking for you. 
Well, you can also add some unique online dating quotes to make it stand apart.
10. And if you're working from home, then change the place of your work.
You need to change your place and patterns of working when home slowly becomes your workstation.  
11. In your free time, take out the collection box that you had in your childhood. 
Dive into your old memories and rewind what you love to do when you were a kid. 
12. Have a morning talk with your neighbors and ask how are they. 
Instead of sending 'good morning' wishes to distant relatives, have small talk with your neighbors. And make it a habit. 
13. Say nice things about someone you live with, it will make their day better. 
Appreciate them for everything they do for you and make your life better. 
Enough attempt to impress others, you're doing it for yourself.
And, don't care about how many likes it gets at the end of the day. 
There are some cute and funny selfie captions you can use, instead.
15. Set a challenge for yourself and try to do it before the day ends. 
At least you've something to do than wasting your day repeating the same thing every day. 
16. Listen to a mindful podcast for relaxed feelings and a fresh day start. 
If you want to make your day better, you need to listen better. 
17. Download the learning application and take a new course and learn. 
If you feel that your morning are so boring and you feel tired of living the same, add something new to life or learn something. 
18. Promise yourself not to lose your temper and make it a habit every day.
You might meet people who challenge you to lose yourself and spoil your day. 
But not anymore, they can't do it on your new day. 
19. Compliment someone for being so supportive and helpful to you. 
You don't have to wait for any favor to share a nice gesture with them.
Just do it at a random time. 
20. Play some sports with your kids or the neighborhood and let them win.
It's not always fun to win every time and in everything.
If you've kids spend your morning time with them this could give fill your day with nice feelings. 
21. If you're living away from family, call them in the morning.
They're the people who care about you the most.
Take their blessings or share what you're going to do today because they're the ones who are happy for you the most. 
Next Read: Why Sometimes You Want To Do Nothing?
Conclusion
When your life feels the same every day, it's time to make some changes to it. 
The shared things might be small but eventually, make your day better as they give you something new to do. 
Whether you want to make this your most productive or perfect day, make sure you're ready to do something new or different.
Because that's the way to make it feel a better day.