You don't want to insult your boss, nor are you interested in destroying co-workers' confidence. 
But, it makes sense to share backhanded compliments for coworkers or boss, when there's a right time and you know they're not going to take it seriously. 
Whether it's about the performance or team contribution these backhanded compliments for work will do the job. 
At the workplace, backhanded compliments are risky. 
Because you want to act professionally to everyone from your boss to co-workers. 
But there are times when you can't resist a fake claim of co-workers who adds no good to the team's efforts but are still able to get a promotion already. 
Even the boss- who is known to take credit for the work, you all did. 
So, whether you want these remarks for your coworker, colleagues, or boss, these are perfect backhanded compliments for work, to follow along. 
Backhanded Compliments For Coworkers
Are you tired of those annoying co-workers or teammates who are more interested in showing off their achievements than working actively? 
Here are some backhanded compliments to give such a teammate. 
And, when this coworker is known by such a nature, you give others a good laugh.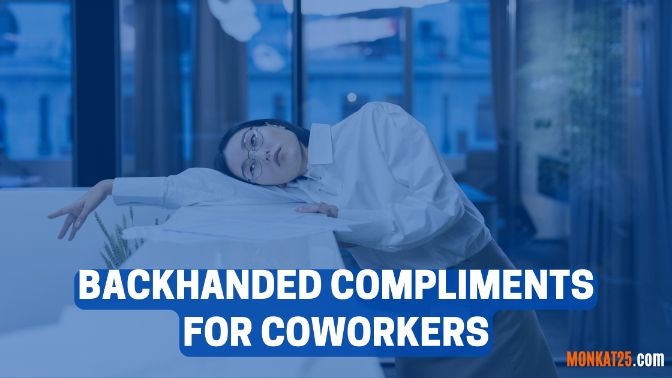 1. You weren't here for the last two days right, that's why it is so peaceful here. 
2. What is a smart man like you is doing in this regular job? 
3. Nobody is calling you lazy, you're just saving your energies for great work. I know!
4. What? You get a job. But how!
5. You don't deserve this job, you need to work for a larger company. 
6. One day you will be so ahead in life that you see no one ahead or behind you. 
7. Congratulations, but what did you do to get this job?
8. You know you look smart when you work, actually. 
READ NEXT: Welcome Messages For New Teammates
Backhanded Compliments For Your Boss
Be careful with that! We don't want you to lose your job. 
You might want to be a good book to your boss. 
But when you and your boss are well acquainted or you know that your boss isn't that smart, then you can give such comments. 
These are some backhanded compliments to share with your boss, AT YOUR JOB RISK.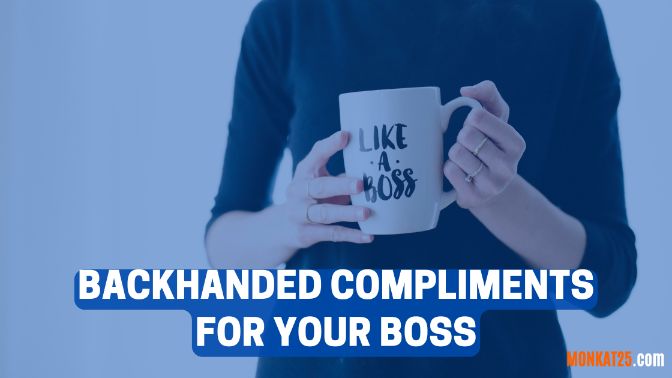 1. Who am I to compete with you? I don't even want that. 
2. Congratulations boss, on this new promotion. Hope you won't forget about us!
3. Whatever I know I learned only from you, I just came here with nothing. 
4. I agree without you I am nothing, and with you, I'm like this. 
5. No boss, I don't want to be you. You're the one and only. 
6. You're the only reason why I am here. And, I can't thank you enough for that.
7. Every time I work with you, I feel more challenged. 
8. You're perfect in yourself, I'm happy being imperfect or the way I am. 
9. Having you as a boss like you helps me a lot. I learned many things regarding what a good boss should do and what not.
READ NEXT: Farewell Messages To Departing Colleague
Don't go overboard with your backhanded compliments at work!
No matter how great a connection you have with your boss or co-workers, it's a bit risky to share backhanded compliments at your workplace. '
We have shared some good ideas to remain professional while sharing them. 
But we also suggest you go ahead considering the other consequences. 
You certainly don't want to start any conflicts at the workplace if that's with co-workers or your boss, particularly. 
But, when you have to share something nice even though you don't want to, these backhanded compliments for coworkers and boss will save you.