Ever wonder, what if dogs, too, are on dating sites like we are on tinder or bumble? 
Whether you want to find a company for your dog (or to meet a 'cute' dog owner), you can use the following 'best' dog dating profiles as perfect templates.
Also for imagination, let's check out if dogs also are on dating sites… how would their profiles look like. 
'Funny' Dogs Dating Profiles
Since a person with a dog receives a lot of attention, why can't there be dating profiles for dogs alone?
No doubt, they might want some sniffing time or a lifelong pup to run around.
Here's what a dog's bio sounds like when they've own dating profiles: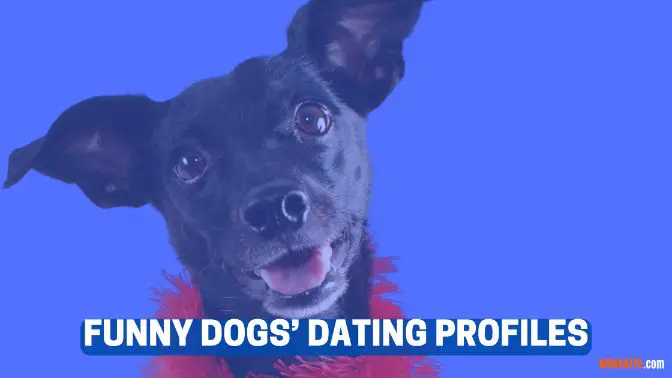 1. While dad can have any date he wants by taking a picture with me. Why can't I do the same for myself?
2. Rosie, a 21 weeks old. My ideal doggo would be substantial, loyal, and run faster than anyone in the colony.
3. I wish to meet a dog who stays loyal to me like he is to his mom and dad. 
4. Well, I can take you to a new pole every week and I've known the best places to pee.
5. Enough running after and playing with random bitches (female dogs). Now, I wish to settle with a loyal one. 
6. Do you also feel tired of being just toys? Are you looking for a relationship and lifelong companionship? We should bark together, then. 
7. Been helping most guys to get girls. Not this time, now I'm looking for puppy love for myself, woof! 
8. Most girls who see me, call me a cute boy. But you can call me anytime.
9. You might have seen my videos on social media. I'm quite a popular breed. Meet me for a fun time and we can bark the whole night.
10. Eagerly waiting for someone to play with and do some sniff-sniff. Most humans love me, so there's nothing wrong with me.
11. Howl there, I'm Danie. My favorite hobbies are running, watching dog shows, and yes a lot of eating non-stop. 
12. Humans don't understand my words or my feelings. I would rather find someone like me who I can match better with.
13. Love to explore new places and find the best way to relax. Have a lot to talk about but am waiting for the right pup to share with.
14. If we start dating, I will take you to any food store you want, most of them know me by my name.
ALSO CHECK: Catchy One-Liners To Use On Dating Sites
Cute Dating Profiles For Dogs
As your dog helped you to find a match for you, you want to do something for her in return.
Check out these good dating profile examples for your dogs' online bio.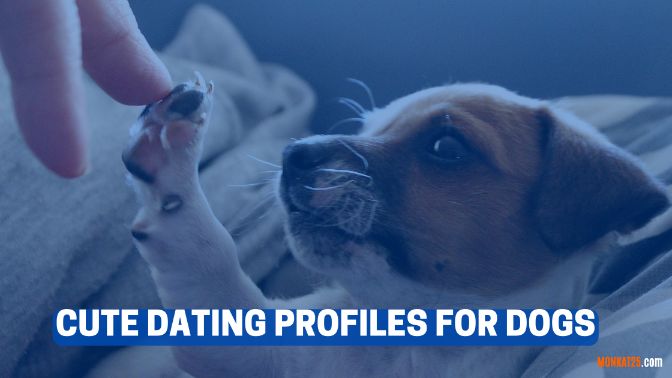 1. Most people say I'm a friendly dog, but I don't want to be friend zoned, I also want the feeling to be loved romantically.
2. I might be a great companion, looking for a partner who enjoys going out and exploring new gardens more often. 
3. Well, I am whatever I am. My parents and I both want to meet someone who accepts us for who we're. We both have facial hairs and are not going to shave them easily.
4. My ideal bulldog would be an adventure lover and born explorer. Hope to roam the streets with him.
5. After working full fulltime to entertain humans, I spend more time with myself, enjoying playing in the garden and chasing birds. 
6. Grateful to have such a supportive parent who allows me to be with the dog of my choice. Those are nice people, and I'm too.
7. Most of the puppies  I dated before, call me Big Boy! Certainly, you want to know why?
8. I enjoy trying all different kinds of cookies and know the perfect places to get you delicious cookies.
9. I felt alone and used to when dad got a date and just forgot about me. I, too, want to have a date and make him know how it feels.
10. Looking for my breed of dog who enjoys having a good time, sitting together at the side of the road, and looking at new humans every morning. 
11. I'm working at home security, it's a full-time job. but don't worry if you catch my attention, I will be with you whenever you want. 
12. My daddy has found a mommy and now is not paying attention to me anymore. I'm searching for my pup, too.
13. I would be your good boy and will be available for anything from playing, walking, and going out together. 
14. Hoping to meet a puppy who won't mind if I stare at her food, but will share it with me. Don't worry, I also believe in sharing too, but food, not toys.
ALSO CHECK: Unpopular Opinions About Online Dating
Conclusion
These might be fun to imagine, like dogs on dating sites. And, the shared examples are what their profile would look like. 
In fact, there are some dating sites for dogs and their pet owners only.
Such dating websites let dog owners get to meet one another by having a profile of their dogs alone. 
If you wish to find a 'puppy love' for your dog like it helped you to get attention online, try using the above funny dogs dating profiles to create their profile on tinder for pets.