Don't use cheesy pickup lines if they look cheesy or risky. 
You could try these catchy and witty one liners for starting a conversation with your match(es) on dating sites. 
These are all unique and worthy of sharing, to leave an excellent first impression. 
After getting matched with someone, if you want the initial conversation to be noteworthy, this is the one way. 
Catchy One Liners For Dating Sites
A simple text like 'Hello' or 'Hey' won't lead to anything interesting.
Are you looking for an interactive and lively first conversation? 
So, these are catchy lines to share on the first message to your match from any dating site.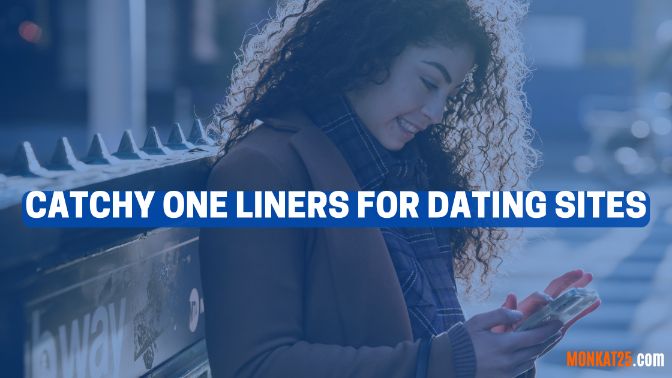 1. I just want to know how often you visit this place, actually?
2. Let's share our first impressions of each other and see if we are a good match.
3. Hey, can we just stop texting and just meet? I prefer talking to texting.
4. I don't believe in numerology, but still, I want to know what your number is.
5. We're not going to make it a boring intro. It better have two truths and a lie game.
6. Not good at starting, but I'm better at keeping it going. 
7. We might be two different or similar personalities, but who cares we're here for fun right?
8. Please don't think I'm checking you out. I just want to be sure that you are for real.
9. I don't know much about you, not good at guessing. So better if you tell me everything. 
10. Want to be that lucky person I go on a first date using the dating app?
11. Just tell me what is the best way to ask you out.
12. What is the backhanded compliment about a look you get ever from someone online?
13. You're the type of girl, I happily check my email every day, just to respond to you.
14. I won't mind if you message me first. You can go ahead if you want to.
15. What song do you listen to on repeat when you're in love or thinking about a crush?
16. Can't believe you have to be on dating sites? I'm glad we connected, though.
17. I'm not good at surprising you, can you help me with arranging our first date?
18. Are we really going to tell our kids that we met through dating apps?
If you're in search of the perfect headlines, you can also try these funny quotes about online dating which works the best, too.
Witty One Liners For Dating Sites
Introducing yourself to a new match is challenging. So sending them a first message. 
But, it's a good idea to keep a conversation about your dating expectations. 
To make it even simpler, here are some witty first messages or openers to share on dating apps to impress your match.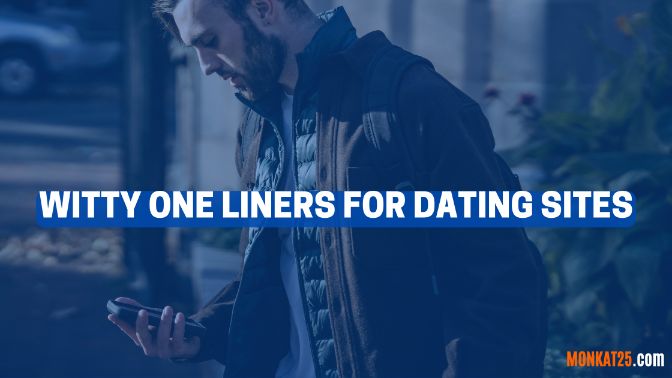 1. Why can't we just share the two best reasons why we swiped right on each other?
2. I don't believe in astrology. But if you find Leo the perfect partner, I agree.
3. I can't stop myself from asking, why are you still single? Let me be your partner.
4. While reading my text, if you laugh and your mom catches you, will you say it's from me?
5. Glad that we matched. It's nice to meet someone with confidence, and charisma. 
6. What is your unpopular opinion about anything from life to love?
7. Let's make online dating fun, we're going to set an example for new singles out there. 
8. If you're also tired of dating online, we can provide relaxation to each other. 
9. I've been saving myself for someone special. So you must admit that you're special.
10. My goal is to meet like-minded people. so, if we message, it means you're the one.
11. Let me be your date at the first match. I'm happy to keep that title. 
12. Promise me once the date starts, you're not going to back off. Because I like to play this game seriously.
13. Most people suck at starting a conversation. I hope not you are.
14. Why talk here, when we can just meet each other on a first date?
15. Not sure how it goes, but a new experience in life is just one swipe away.
16. I want to experience how one stranger person could be everything in your life.
17. Please tell me that you don't seek a date just to make your ex feel jealous.
18. I don't seek anything great or special. As we got matched, it's really nice to meet with you.
READ NEXT: Best Questions To Ask Before Your First Date
Conclusion:
When you don't want to use cheesy lines, but instead some interactive opener, you're fine. 
It is the first conversation with the match that determines where things will go.
The shared one liners are the ones you can use to start a conversation as you match.
To get their attention from the first message, use 'catchy one liners', whereas to share your dating goals clearly, 'witty one liners' will do.
Whatever you aim, these one liners for dating sites are perfect ideas to direct your initial conversation to the right direction.