You don't want to hurt someone's feelings (or confidence) by sharing such backhanded compliments in person or online, like Instagram. 
However, if someone's mean, having them as 'a comeback' makes sense.
In this post, we're presenting the ultimate list of backhanded compliments examples to give to someone who annoys you but still expects you to 'be nice' to them.
What Is A Backhanded Compliment, Btw? 
A backhanded compliment might sound like praise to someone, but it is really 'a taunt'.  
Here, your first comment on their positives and then end it with mentioning flaws they may not be aware of, but others.
If you're not comfortable insulting someone directly (particularly someone who is too strong to mess with or too weak to take it), you could give such 'half compliments' instead. 
In need of some backhanded compliments to give someone, you find annoying or arrogant? 
So, when you get a chance to share such hidden insults, go for it. 
To make it even better here, we will share some backhanded compliments examples of someone's looks, intelligence, style, and confidence. 
By the way, such compliments also work best for Instagram, as well.
Backhanded Compliments About Looks
If you find someone's look absurd, but still have to say nice things, you can compliment them backhandedly.
Try these backhanded compliments ideas regarding their new get-up or make-up. 
1. I've seen you so much in makeup, I wish I could see you in a natural look. 
2. You look a lot different than you were in the picture you sent me. 
3. How can you fit so well in everything you wear? Even though I don't have extra fat.
4. I'm shocked you look completely different in every new selfie. 
5. Your makeup skills are simply astounding. Please teach me how to look better than you!
6. It seems like you pay your make-up artists well. Not surprising at all.
7. My goodness, it took five minutes to realize that it was you. 
8. Today I feel something is unique about you. You look amazing today. 
9. I just wonder, how much time do you spend putting on make-up? At least, three hours?
10. You must wake up so early, to have this make-up and come here on time? 
11. Bro, with this new look you're sure to get attention not from girls, but also the dudes. 
12. I just loved all your posts, which filters are you using, I want to know. 
13. You're just a carbon copy of your parents. But not in looks. 
14. Damn, you never age after all these years, have you stopped time.
15. Since you lost a good amount of fat, now you look like a bag with no extra stuff.
16. I don't know how you will take it, but today you don't even look like you're a girl. 
Not sure what to say to your match to impress? Have these Clever Things To Text Your Match On Tinder.
Backhanded Compliments Examples About Intelligence
For those self-proclaimed smarties who believe they are smart, but lack basic knowledge, try these examples of backhanded compliments cleverly.
If they're smart enough… they'll recognize whether you compliment or insult them.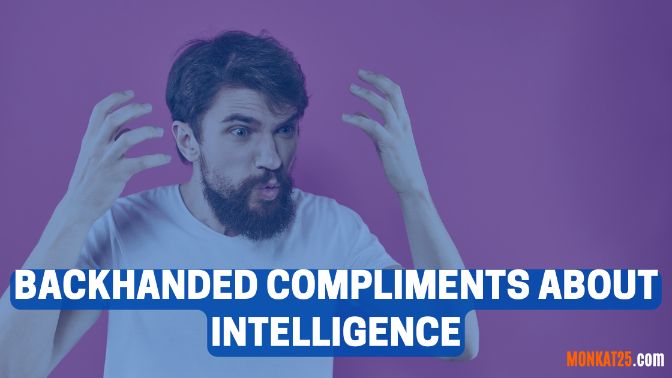 1. You make me surprised; I never see you this smart. 
2. Thank you for being with me. It makes me realize what not to do to look stupid.
3. You make me surprised; I'm happy that you're smart, too. 
4. First I didn't like when you did. But then I realise, it's better than what you did before.
5. Thank you so much for reminding me not to be dependent on anyone. 
6. I don't want to put you down, you're not even up. 
7. Finally, you proved that we can live without a brain and a heart. 
8. Oh, thank you. These days you're quite behaving wiser. 
9. How can I be so rude to you, you deserve even harder than that.
10. I kind of admire you, you do things that normal people won't do.
11. I know you're the smartest person in the group. Those are fools who don't know that.
12. Who said you're problematic? Agree that you don't have a brain, but you're fine. 
13. Thank you so much for doing anything to entertain us. 
14. So, finally, you're up…. Now I can do something to put you down.
15. I will never exchange you for anything, you're just irreplaceable. 
16. It's hard to meet someone like you. you're the only piece god created. 
17. I agree that you're entertaining sometimes, but don't say anything no one asks.
18. You look exactly like a raccoon. And for your info, they're my favorite animal. 
Remember, these things don't determine your self-worth and you shouldn't think about much of it.
Backhanded Compliments About Haircuts
Whenever someone shows up with a weird hairstyle and proudly flashes it, here are some backhanded compliments examples you could share.
As they have no chance to do anything with their hair now.
So you can use these examples of 'compliments' on new hairstyles instead of making fun.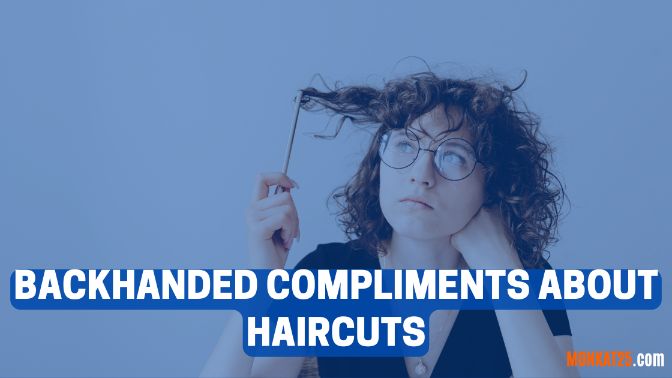 1. Finally, you have a haircut that suits you. 
2. Your hair looks good, I thought you wore a wig there!
3. I'm not laughing. People laugh at new haircuts all the time, that's normal. 
4. Love your hairstyle, hope we have better connectivity now that we have a tower.
5. I liked you more when you had a ponytail. This is still better, though. 
6. Your hair looks messy, and how about your life?
7. I love how you don't care how your hair looks. 
8. You look better as you shave your hair, and smarter too.
9. Lol, I wish you could see from my sight how funny you look with that.
10. Now your eyebrows look simply perfect, for the first time. 
11. It's simply hard to ignore you, your haircut makes you stand out really
12. Wow, a different look! Your hair shines like never before.
13. Give me the address of who did your haircut, I want the same for Halloween.
14. Like your hairstyle. This raises your height by a half inch.  
15. Not only girls, but you might also attract anyone with this hairstyle. 
16. Oh, you cut your hair, that last hairstyle looks so perfect on you.
17. I'm not the only one to tell you that you look new today, right?
Got rejected by her? This is what to do when your crush rejects you, this will help you get over with it faster.
Backhanded Compliments About Confidence 
It's difficult to tolerate someone who is too arrogant and doesn't respect those who are weak or still working on themselves.
Such people deserve tough reactions.
Anytime when they act recklessly, they give backhanded compliments to break their confidence.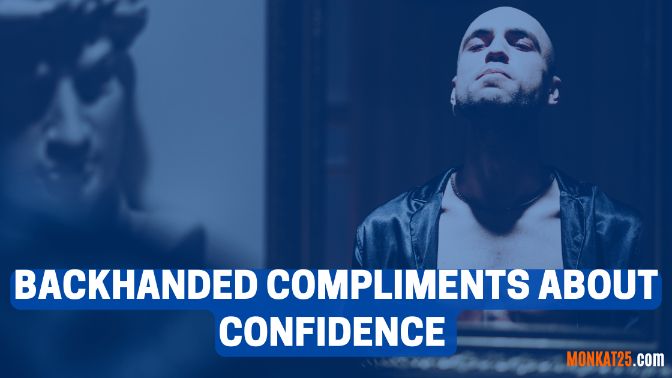 1. I don't have the guts to do it, just like you. To me, this is total nonsense!
2. I wish I could care less what others think of me, just like you.
3. This world is so thankful for your mom and dad to bring you here. 
4. Yes, without you I don't think I can be even level. Thanks, I'm better now. 
5. Nope, I have never tried this in my entire life. I have someone to take care of. 
6. If I've your confidence I'll run for president, instead of being on Instagram or TikTok. 
7. You must have done anything to get this fame, right? 
8. Wow, congratulations on buying the new house. Was this a gift from your parents?
9. You don't look like someone who ever works for someone, not even for yourself. 
10. Instagram or TikTok is not for you, you deserve a better audience.
11. The way you handle yourself alone is just truly appreciable. 
12. Now you're looking like you're a part of our group. 
13. I like your confidence, you do crazy things I'd never dream of doing.
14. Are you sure you want to do this? I'm not brave enough for it, but you are. 
15. What a genius person like you is doing here?
16. I'm so impressed with such a level of confidence, where does it come from?
17. Others might call you crazy, but I consider that as you're being yourself.
18. I have no idea if I should praise your confidence and call you crazy. 
You might also want to read: Funny Matching Bios For Friends On TikTok.
Backhanded Compliments About Personality Or Nature
Some people challenge your patience with their behavior.
Everyone knows this person needs to change. But they don't see it.
Here are some examples of backhanded compliments based on their nature. Perhaps they'll get it and change their behavior.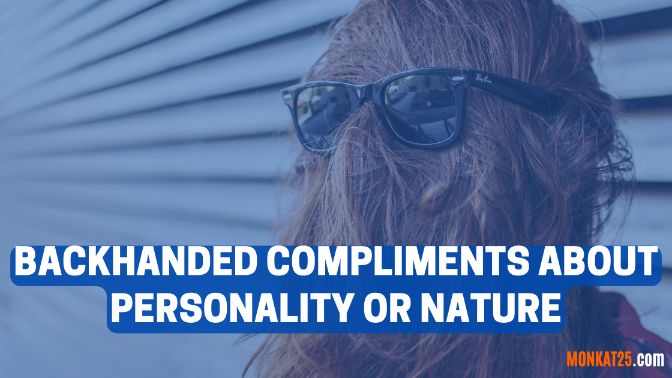 1. I'm happy to see that you're trying to be a good person now. 
2. You realized that you were wrong, that's enough for us. 
3. Even though you did nothing, I'm glad that you're here with me. 
4. Forget about that, bro. This tiny world won't recognize your value. 
5. Your name must be maths. Because I can't understand you at all.
6. Oh, thank you. These days you're quite improving as a person. 
7. Happy to know that I'm not as smart as you. 
8. I wish I could be you, but you're just out of this world. 
9. I like your joke, glad this time you didn't laugh it alone. 
10. You're not overrated, everyone knows how underrated you are. 
11. I wish I were as lucky as you are. But, anyway, I'm good. 
12. This dress never fits me well, but to you it's perfect!
13. Oh, you two look the same but your personality separates you from each other. 
14. Doing this, you break your own record to be mean. Congratulations. 
15. Now it's all up to you whether to take it as a compliment or an insult. I just said facts.
16. I'm not describing you, I'm just showing how we all see you.
17. Even though everyone thinks you're useless, I don't. 
18. This world doesn't have people like me, they better have more like you.
19. Who the hell I am to describe you? People like you are already famous! 
If you and your partner feel bored, follow this list of the best hobbies for couples in 20s to make money and good time!
Conclusion: 
Well, no matter if someone takes it personally or feels offended, backhanded compliments are required when you're treated unfairly by them. 
Whenever you need to confront someone who is acting too proud or being too much, we've listed the best backhanded compliments examples for you.
Remember, with these comments, you don't want to destroy someone or belittle them. 
But give such backhanded compliments to those who overestimate their intelligence, appearance, and confidence, and often make other people feel bad about themselves.