Getting a date is exciting.
But it's better if you trust your potential date enough.
During chatting, there are some required questions to ask before going on a first date with a guy or girl you met through a dating site.
Finally, you have that person you're looking for on a dating site.
He or she is the one- you've waited for so long.
Of course, there's the excitement of meeting your match finally in person as your first date is fixed.
No matter how long you've been chatting with each other, it's still possible that you two haven't discovered important things about each other.
Who knows if this person is just nice at texting and you misunderstood them as a perfect date? 
Indeed, false assumptions and over-excitement can lead to disappointments.  
To prevent that it's a good idea to ask some good questions before you meet your online match in person or ask them for a date. 
Good Questions To Ask Before Going On A First Date
While texting with your match from a dating site, you can try asking these questions casually, to know them before meeting offline. 
This will help you get some insights into your match and decide if you two are ready for a date or not.
Also, if you should go or take this person on a date, is he/she worth your time or not? 
Before you ask them to meet in person, be sure you're clear about such things.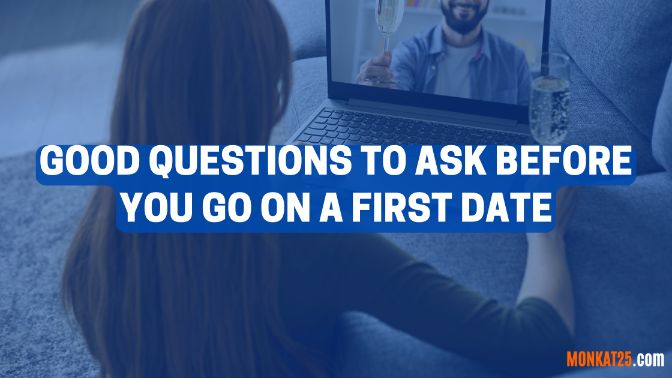 1. How would you describe yourself in five words with a dating perspective?
2. What type of personality do you have and the one do you feel most connected to? 
3. What is the first thought you have in mind when you get a match request from me?
4. Who is your top priority in life at this moment? 
5. Do you love what you do for a living? What's your future plan with it?
6. What's your passion? Is your passion just a hobby or it's your source of income?
7. What is something that you want me to know before we go on a date?
8. What are your best friends' opinions of you, do they trust you?
9. Will you inform your parents or friends that we are going on a date?
10. What's your plan after the date? Can we meet each other's parents?
11. Would you rather check your Facebook, Instagram, or YouTube before sleep?
12. What is something about you that you feel the proudest of?
13. Have you tried anything or want to try, that others might call you crazy?
14. Which reel character is quite related to your nature in real life?
15. What would you do if we weren't going on a date this Sunday?
16. How excited are you about meeting someone for the first time?
17. On a percentage scale, how much do you trust me?
18. Are you developing new hobbies lately, what's that?
19. What are you really looking for in someone or online dating?
20. Please suggest a place you like to set up our first date.
21. What is something that separates you from the rest of the other daters?
22. Do you prefer to date one at a time or keep your options open for online dating?
23. What's your opinion about sharing the bill on a first date?
24. Who is the closest person in your life right now? What's unique about them?
READ NEXT: Witty Answers To 'Dating Me Is Like'
Why Ask Such Questions To Your Potential Date?
It's for the purpose of the final check before you say yes to their invitation or ask them for a date.
You certainly don't want to waste your or their time (mood and money) being on a first date with someone who isn't even compatible enough. 
Well, such questions aren't enough to find compatibility right away, but these will give some sort of idea of the type of person they are and where this date may lead.
Especially if something doesn't feel right, don't take a chance.
Instead of asking them out or saying yes to their date proposal, you better ask enough questions to your potential date to know them at some personal level before you meet in person.
You need to feel confident about them. Plus, to be sure that you know this guy or girl at a certain level.