It's agreeable, you don't want to sound too picky with your answers to "What are you looking for in a man?" whether it's asked from a guy on a dating site or on a date. 
But, if you have the checklist to find your ideal man, be honest about your expectations. 
Especially when you hope to develop a lasting relationship, that guy needs to know what type of man you're looking for. 
To help with preparing your response, we're providing the best examples of answers you can try. 
Best Answers To "What Are You Looking For In A Man?"
Even though you have a list of qualities of a man to date or marry one day, keep your answers short and simple. 
You certainly don't want to scare that guy to ask you to define your ideal man. 
Instead, you can try these examples which are perfect for "what are you looking for in a guy?" in every case.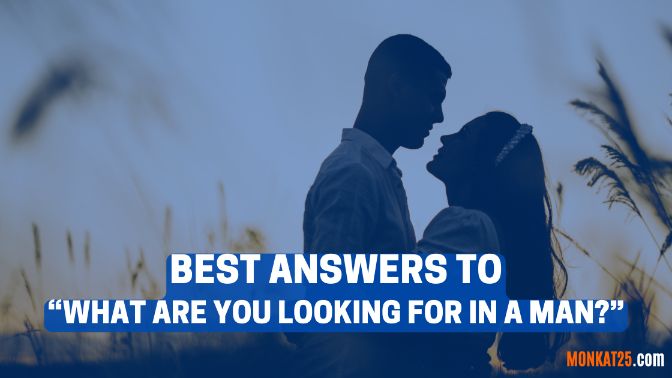 1. "The guy I'm looking for a date must have a personality."
It's fine… whether it is quirky, crazy, or fun-loving. But some personality.
You just want to have a good time with him. because being with someone with no personality is boring.
2. "I expect him to be honest with me and talk to my face."
Of course, your goal is not to date a player who is seeing you just as his playtoy. 
You are comfortable hearing good and bad things about you 
3. "Someone who takes good care of me and loves me genuinely."
You like to be loved and pampered, that's what every woman expects from her man. 
READ NEXT: How To Answer "Why Do You Love Me?" (For Girlfriend)
4. "He just won't be like any other man."
You want your ideal man to be different and fall apart from the rest. 
This answer shows you are looking for a man you can be proud to have in your life. 
Someone, you will feel confident to introduce as your boyfriend or husband. 
5. "Whether it's about work or love, he must be passionate."
The guy with a passion to do something is unstoppable. 
But you don't want him to be passionate in his work, you also want the same level in your relationship, too. 
6. "He won't be perfect, that's fine. But he needs to be a genuine lover."
Your definition of the perfect guy is unique. 
You hope to be with a guy who loves you as no one has ever loved you before.
7. "The guy who takes his life seriously and has planned something for the future." 
Having a date isn't the only goal. 
But he has to be concerned about this time and feelings to invest in the right connection, same as you. 
That's what you're looking for in a man- a commitment. 
READ NEXT: Perfect Replies For "Why Are You Still Single?"
Sassy Answers To "What Do You Look For In A Guy?"
When your date asks you, let him know what to do to win your heart. 
You're not going to share everything or the whole checklist. 
But, you're just giving hints and will see if he makes any efforts to be that man you want to date.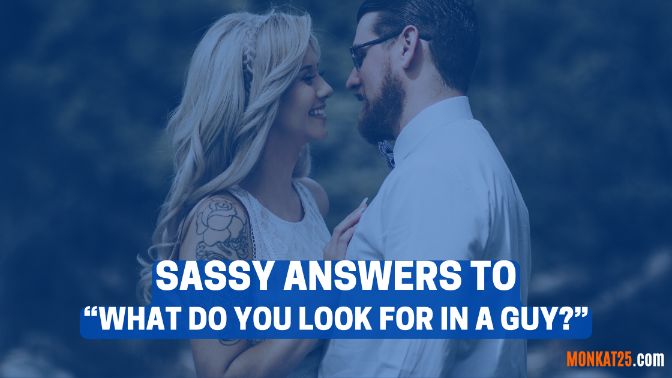 8. "I want to be with a man who has no problem with differences. But he acts more mature than the other guys."
You don't want a man to always fix you something. 
The one who wants to change you. instead, you like to be with the one who is mature and flexible. 
9. "I'm hoping to meet a man who is good-looking and smart."
Looks and physical appearance are indeed important. 
Plus, you can also expect him to be clever and smart enough to make a better living together. 
10. "The one who has no problem with joining me in yoga classes."
Because you don't want a man who makes fun of you doing yoga. 
But someone who also joins you and takes physical and mental health seriously. 
This one is a funny answer to mention what exactly you look for in a man. 
11. "He treats me like her queen. So I can call her my king."
Agree with you, girl. You deserve respect. 
Because you're special and only the right guy will keep your value that high. 
And you want to be with someone like that. 
READ NEXT: Smart Backhanded Compliments To Give Guys
12. "The man who is self-independent and driven."
You already have a plan for your future. 
Also, with a guy who is self-driven and capable of handling life alone, you wish to create the future of your dreams. 
13. "I am seeking a man who always has something interesting to do together."
With this answer, you try to say that you want a guy who is fun to be around. 
Here you're not serious about relationships.
But you want to test a guy on how he treats his life and if he could entertain you. 
14. "My perfect man would be someone who just accepts me the way I am."
Because you're what you're, you're not going to change just to get his approval.
You know, only that guy will accept you as you are, who is genuinely into you. 
The guy for whom you don't have to do anything to make him love you. 
READ NEXT: Great Ways To Respond To "Hey" On Bumble
Clever Answers To "What Do You Want In A Man?"
The above answers are the best ones if you want to be nice to a guy who is asking to define your perfect man. 
But, when you want to be straightforward with your reply, you need these clever examples. 
Such answers will directly tell him your expectation. Also, guide him on what he should do next to be that guy you're looking for.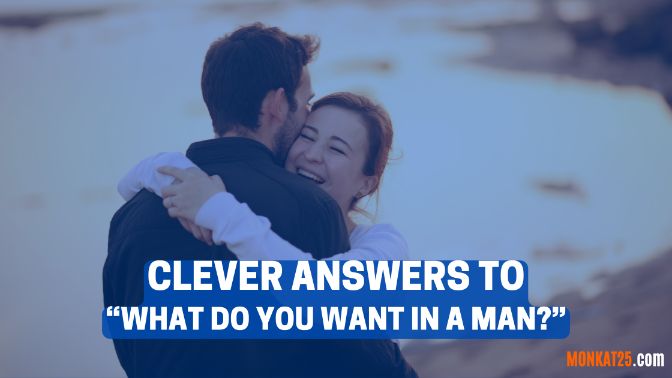 15. "First of all, I hope he must be great at texting."
If a guy on a dating site asks you early, 'what are you looking for in a guy?' this answer you can give. 
It might challenge him, but clear communication and faster response are what you need first. 
16. "I want to be with a guy who doesn't have a problem getting emotional during the sad movie part."
Here you don't want to be with an emotionless or cold-hearted guy. 
But someone who is quite sensitive and doesn't try hard to control his emotions. 
But feel comfortable releasing them with you.
17. "I'm in search of a man who loves babies. Because we're going to have them together."
If that's what your plan is, fine. 
Just share it and check how he responds to it. 
18. "I like to be with a man who knows cooking, if not then someone who helps me with other chores."
You want your man to be supportive in your daily house chores. 
The one who never feels hesitation to do the laundry and dishes. 
You can't tolerate a man who just stays on the couch, while you do all the work all alone later on in life. 
19. "The man would be patient and never force me for anything."
Having patience in any situation is the quality you want in your man.
The guy you want to have a relationship with won't take your words personally. 
But act more understandably and remain patient when you're not ready for something or need more time. 
20. "I'm looking for a man who is up for trying anything new."
Right now, you enjoy every single day and do not take life too seriously. 
So, your ideal man wouldn't change your life, but join it and keep the party going. 
Because you have the plan to have good hobbies as a couple in the future. 
21. "The man whose plans are for the long-term."
This clears everything. 
You don't want to play casual games or engage in such short-term things. 
You want a guy who is also ready for a long-term relationship nothing less. 
READ NEXT: Great Ways To Respond To "Hey" On Bumble
How To Answer What Are You Looking For In A Guy?
When you share your checklists to define an ideal man, chances are you might be seen as too aggressive with your choices. 
But when a guy asks 'what are you looking for in a man?' That's your way to tell him things in your mind. 
Be confident and stay honest while answering it. 
There's nothing wrong with having higher expectations from the ideal man. 
Your good and clever answers to 'what type of man you're looking for?' could save your time and feelings for the right man, if he isn't the one. 
On the other side, that guy will also have some sort of idea of where he stands in your expectations. 
If he wants to be that man you're looking for, you might notice a change in him.