Last updated on February 14th, 2023 at 06:04 pm
Have you just signed up for Match.com and can't wait for the right woman to come along?
Just like any other dating site, creating a match.com profile is challenging. 
So, in this post, we'll share some good examples of a Match.com profile for men to write a bio that will get you noticed and more matches. 
If you're looking for a committed relationship or just want to try this platform out, make sure your bio speaks for you and presents you right.
Great Match.com Profile Examples For Males
In online dating, you want your first impression to be nothing less than a perfect one.
Instead of creating an unclear profile that drives girls away, think about what you would like to include in your 'about me' bio before you make it live.
On match.com, you're free to mention your likes and preferences the way you feel right.
It's also a good idea to have some funny quotes as dating headlines to sound personal.
You don't want it to have a lengthy description but make it a 'short summary' that keeps your potential match's interests also.
If you seeking some examples of match.com profiles, check out these samples are for men only: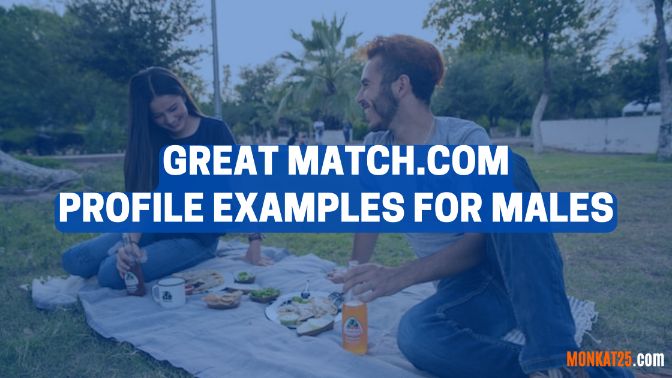 1. If you can handle my humor, we can try adding a love element to the process. 
2. I love what I do in life. I enjoy every single day. I'm looking for a  girl that I can look up to and share a better life together.
3. Of course, this is a place to find a life partner, but my goal is to have a lifelong friend, in the same person. 
4. If you roast me hard, I find you as a compatible partner and will keep you forever. 
5. It's my dream to travel the world and take selfies in famous places. Want to join?
6. I might be overly passionate and work too much, but when it's about you- I'm sure you'll be my first priority. 
7. Recently bought my first home, thanks in advance. Let me know what the proudest things you did so far. Because if we marry, we're going to do it more later.
8. Our date probably will be during a trip, while we explore our road and new places, who knows we might find a friend or person for life. 
9. Now I pay my bills and have my own house. And about to get a car, but before that, I need someone to take me on a ride. 
10. Here I'm waiting for my special kind of person. Not sure what I want, but I will feel it when it's her.
READ NEXT: Best Backhanded Compliments For Girls
Simple Match.com Profile Examples For Guys
You want to avoid being a cocky guy that scares away most girls.
Instead of showing off how great you are, you could try these simple summaries of yourself on match.com.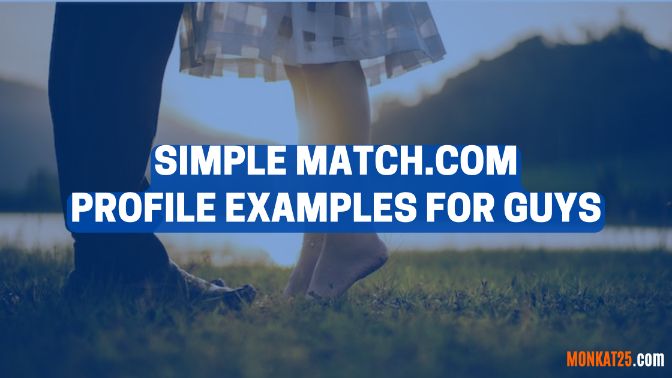 1. I love cooking, so you can relax if you don't want to cook, I can take it from there.
2. Getting married is not my life goal, it is something that I want to do and not to fulfill my desires, but to live my dreams together. 
3. Musician, Traveller, and a simple guy. Not asking much, but expect your involvement. 
4. I find joy in the simplest things in life, I don't want to make life too complicated, just hope to have an easy-going relationship, too.
5. My Instagram is all about my travel pictures and all. People often ask who's your travel companion. I hope I will find her on this site. 
6. Call me old-fashioned, but I enjoy watching 80s movies and listening to classical music over rock.
7. Traveling to Europe is on my bucket list. My next destination is Peris. I think it will be a good idea if I go there with someone. 
8. Got no jokes to laugh at, I rather try situational comedy that even seems laughable to me. Love rom-com movies and also to mimic the best scenes in real life. 
9. I'm ready for any connection in your mind. The point is it has to be a lot engaging and entertaining both ways.
READ NEXT: Good Plenty Of Fish(POF) Headlines To Impress Girls
Tips For Men To Write Match.com Bio
Well, having an effective match.com profile is the first step.
Anytime when you're confused about where to start and how to complete your dating profile, do some profile research. And refer to more bios ideas. 
Here, we've provided unique match.com profile examples for males only.
Hope this gave you enough idea of how to summarise yourself in the best way possible. 
To meet the compatible match, have a description that covers your info such as your hobbies, interests, accomplishments, and what brings you on a dating app here. 
There's a lot to write as part of your about me, but you want your information to be concise, simple, and compelling. 
Take ideas from this post or the platform itself, and make sure your profile feels confident and approachable when you finally make it live.