You usually spend weekends binge-watching your favorite shows or watching movies with your partner, but it soon gets boring.
So, here are some best hobbies for couples in their 20s to make their relationship refreshing and alive from the very beginning.
When your relationship has just begun, you'll need some good things to do together. 
It is important to get to know each other and develop a relationship in which you both feel engaged from the start.
There are so many things you can do with your partner, when bored or on a weekend. 
For young couples in their 20s, developing a routine based on good hobbies to do together can enrich their relationship.
You need excitement to keep your relationship alive, and such hobbies may help.
It's okay if you haven't discovered your girlfriend's or boyfriend's interests and hobbies yet.
This list is a good collection of outdoor and indoor hobbies for couples in their 20s. 
Fun Hobbies For Couples With Creative Minds
Whenever your partner and you work in the creative field or want to shake things up in your free time, you need to do something artistic. 
So, here are some good hobbies for couples who want to create something together.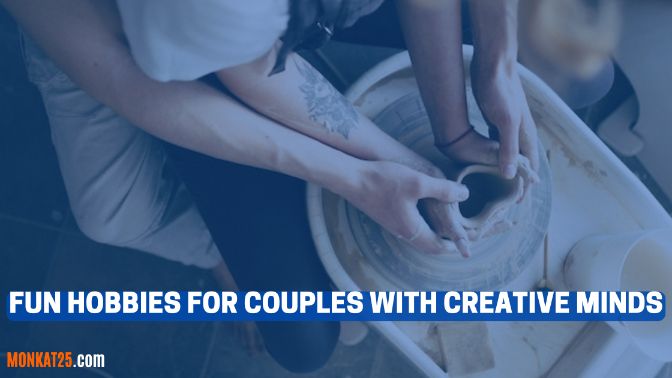 1. Learn something new together or from each other. 
There are so many platforms available online for learning. Consider taking a course together or teaching each other something you are good at.
2. Try something new for the first time together.
Don't repeat the same things like binge-watching and all, do anything but for the first time. 
3. Play a musical instrument or learn to play it.
Take an online music course. And who knows you can create your duet later on. 
4. You can also write a song or poem for each other.
Even if you're not a writing expert, let your feelings help you write something for her.
5. Sing a song for your partner.
Dedicate each other to a song that relates to your relationship perfectly.
6. Take care of the garden or maintain your backyard.
Add new flower plants to your terrace garden and make it even more beautiful.
7. Draw or sketch something.
Bring back your old painting skills. Paint a portrait of your partner and dedicate it to him or her. 
READ NEXT: Short Matching Bios Ideas For Couples
8. Try your hands on photography.
Don't just rely on selfies, take some good photographs outside with your DSLR.
9. Listen to your favorite or classic music.
Exchange your favorite song lists with your partner. 
10. Play chess with your partner.
It's time to play some mind games and see who is the sharpest one.
11. Redesign your room space.
Rearrange your furniture or replace them, and have a better place to spend your free time.
12. Create a Lego city or lego house.
During your free time, why not build your entire Lego city or house with your partner.
13. Give each other a surprise. 
No need to wait for a special day. Buy something for your girlfriend or boyfriend for no reason.
14. Go for a picnic. 
You don't need to go too far, search for the nearest picnic spots on weekends. 
15. Plan for your next foreign trip.
If a vacation is coming, get ready with your plan for the next vacation. 
16. Set up a date at home for each other.
When you don't want to binge watch again, and want something spicy and more romantic… why can't just date at your home?
READ NEXT: Fun Things To Do By Yourself On A Saturday Night
Outdoor Hobbies For Couples In Their 20s
You two are kind of an outdoorsy couple who simply want to go out and enjoy life outside.
Well, if you don't have time to travel so far, you can develop some outdoor hobbies to spend quality time with a partner still in their 20s. 
And here are some good hobbies to help you and your partner to enjoy the outdoors.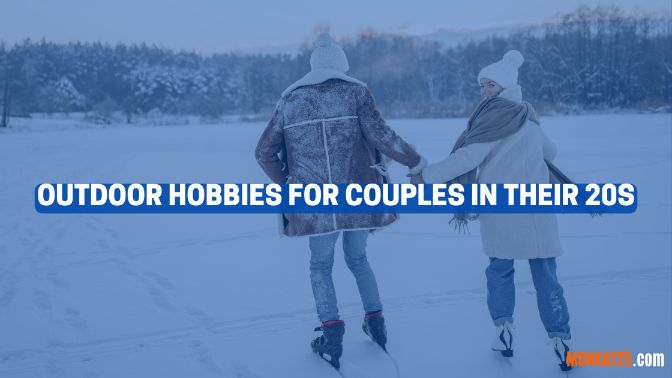 1. Explore new places together.
Be at the places in your city or state that you two have never visited before. 
2. Go on a long drive.
Get in your car and take a ride with no destination fixed. 
3. Visit a new hotel/restaurant in your town.
Experience new food and services at restaurants you've never been to before. 
4. Collect something.
It's not just a memory, you could create a collection of many things from old coins, to tickets, cards, and all. 
5. Get volunteers together.
You may want to volunteer and do some social work with your partner in your free time.
6. Be at an animal shelter and help out.
If you want to have a pet, but it's not possible for some reason, you can spend time with them on weekends, instead. 
7. Do some charity work if you can.
Spread awareness of something or offer help, when you're in a better stage in life. 
8. Contribute to a clean city and sea area with local communities.
Take part in such events and engage in a social cause.
READ NEXT: Flirty & Dirty Two Truths And A Lie Game Ideas
9. Run a marathon together.
Get your partner to help you cross one item off your bucket list.
10. Go to rock, comedy, or live concerts.
Book a show of your or your partner's favorite performance and enjoy it together. 
11. Do some adventure activities with a partner. 
Go for some adventures, it's worth it to do some bungee jumping, rock climbing, and other activities as a young couple.
12. Go skating. Try to balance together.
If you're a couple in your 20s, this is a must-have hobby, this is the time. See how you handle each other and have fun.
13. Play some sports together. 
Get active together and involve in your favorite sports.
14. Boating or Riding.
You may want to take a boat ride. And for more fun, you can take a horse ride.
15. Go to the gym together
Get fit together. For couples in their 20s, this is one of the essential hobbies to develop.
16. Take a stroll in the evening.
Have a walk and talk while discussing your day with your partner at a local park or garden. 
READ NEXT: Witty Profile Examples For Dating Sites
Indoor Hobbies For Couples In Their 20s
During free time, if you and your partner have nothing to do other than scroll through social media, there are some things you can do. 
Here are some indoor hobbies to spend more quality time with your loved ones.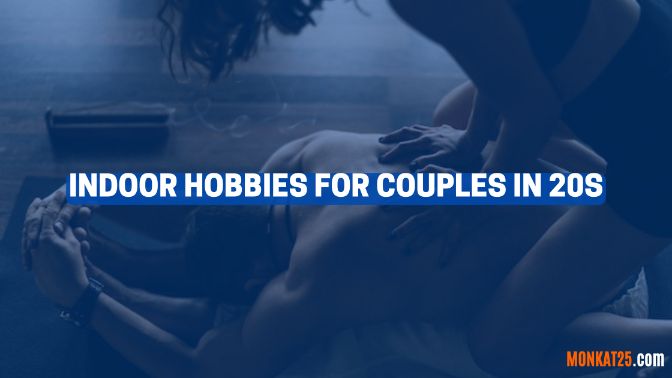 1. Participate in karaoke. 
Sing a song for each other and see if there's a chance to form a band. 
2. Go through some love stories from history.
This will help you to create a unique love story, or you may even find the same stories throughout history.
3. Play dumb charades.
Play a game where you understand each other only by using signs, and see who is best at it.
4. Do yoga with your partner.
Try some new yoga asanas, and moves with your partner. 
5. Learn any dance form. 
If you are not good at dancing, take a dance class from your partner or learn it online.
For couples, salsa, ballroom, and bachata are quite good hobbies to develop. 
6. Meditate with your partner.
Relax and help each other to stay calm and collected while dealing with work/life stress. 
7. Play some indoor games. 
Many indoor games to play with your partner such as 'talk-flirt-dare' or 'off topics'.
Look for some card games, board games, question games, and so on.
READ NEXT: Flirty Would You Rather Questions For Couples
8. Team up with your partner and play video games.
It's a fun part, make your partner- a gaming partner and win a battle. 
9. Get on a live stream.
Interact with other friends or followers online and have a conversation with them. 
10. Just have a good talk.
Discuss about something, and get to know each other better.
11. Learn to cook something with a partner.
One of the best hobbies for couples whether they're in their 20s, 30s, 40s and so.
12. Learn or try interior designing.
You can develop this skill as a hobby. Or redecorate your home interior with enough tips. 
READ NEXT: Interior Design Captions For Instagram
13. Create a reaction video.
Go through some new movie trailers or prank videos. Record your reaction with your partner. 
Already have your next week's content and schedule them. Help each other in the process. 
15. Cake and bake together.
Take cake-making classes and learn how to bake a cake. 
16. You can babysit together.
For couples in their 20s, this hobby can prepare them for the future. 
17. Adopt a pet and train them.
Add the third one in your house, who is friendly and loyal.
READ NEXT: Tinder Bios For Couples To Find A Unicorn
Hobbies For 20s Couples That Make Money
Who says hobbies are just for filling your heart, they can also fill your pocket.
At this young age, you have enough time to earn extra money, so take a chance now. 
Especially when you're in your 20s and in the early stages of your relationship, developing money-making hobbies can help you live the life of your dreams with your partner.
Here are some hobbies that can help you earn money. and achieve financial freedom as a couple.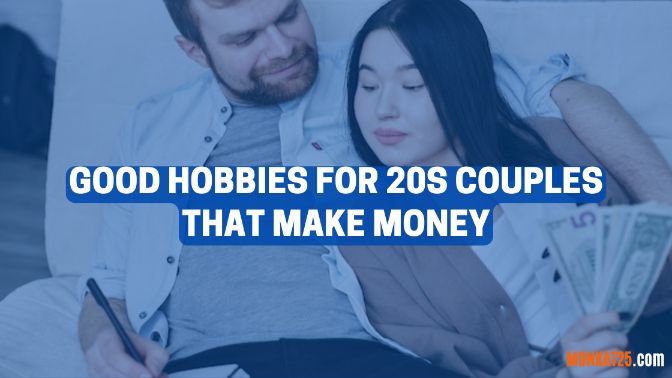 1. Develop new skills together.
Just working at '9 to 5' is not enough. You both can grow some skills that you can monetize later on. 
2. Plan your finances and expenses.
During your free time, you can create your monthly budget and manage your money wisely. 
3. Invest for your future.
Look for new investment options and get ready for future plans. 
4. Start a side hustle as a couple.
You can't waste your time doing anything… when you have a dream to live a great life together.
5. Give consultations.
Use your expertise to help someone who is in need. You can charge a small amount. But this is to get your name out. 
6. Start a YouTube channel.
You can make money on youtube, if you have something to offer – knowledge or entertainment.
Doing it with your partner can work for your relationship in many ways. 
To set up yourself as an influencer, you need a huge following. Work on your social media and help each other on being popular. 
8. Start blogging. 
If you're good at writing, this hobby can make you money. Or if your partner is good at graphics, try youtube, Instagram, or Pinterest.
Start it as a hobby and fuel it with your passion.
9. Start a Podcast.
Set up your podcast on a subject that you both can talk about anytime. 
10. Learn trading and stocks investment options.
During the week you might have no time for it, but on weekends you can learn to invest in stocks.
11. Start a small business in your free time. 
Look for what you two together can offer to the world.
It could be products or services, start small and grow your business over time. 
The point here is to – just start.
12. Help each other in their business.
If your partner is passionate about something but has no support from others, you can help each other, as no one else can.
READ NEXT: Cute Matching Bios For Instagram Couples
How Do Developing New Hobbies With Your Partner Help In Your Relationship?
Spending quality time with your partner, talking, or binge-watching is nothing new. 
To make your relationship engaging and refreshing, you and your partner need some good hobbies to develop together. 
And mostly, when you're in your 20s and early in your relationship, such hobbies are beneficial for your future.
First of all, you share quality moments when you do something together in your free time. You get to know each other more at a personal level. 
You might talk or chat enough, but when you do something together, you connect better.
As a result, you have more reasons to be together as there's more interest in your relationship. 
As you follow your hobbies and make something, you feel excited about your next meet-up and spend more time together.
You create good memories when you participate in hobbies that excite you both, equally.
Most importantly, if you and your partner are passionate about something, you can help each other with hobbies that can earn you money.
This will eventually help you to create the future that you both dream of.
So, anytime you feel bored in your relationship and have no other topics to discuss, follow this list of best hobbies for couples in their 20s, that we shared here. 
Have hobbies that you both are into. 
Discuss with your partner about it, share your interests, and see what you both like to do together during your free time. 
After all the goal is to spend some quality time together and enrich your relationship.