Last updated on December 15th, 2022 at 05:11 pm
Whether you want the best Instagram captions about the 29th birthday or look up funny quotes about 29 to unwind, this post has got you covered.
Many people say turning 30 is scary, but it's not. Actually, it's about turning 29.
Because you already know that your 30s are coming, but the real fear is that this will be your last year as a 20-year-old. 
Indeed, no matter how fully you lived your early 20s, you feel insecure in your late 20s.
They might also start giving you backhanded compliments about your appearance to confidence now.
If you're turning 29 this year or your birthday is coming, we've got something for you.
Here is the best collection of quotes and Instagram captions about your 29th birthday. 
That you can use as your post captions or as a way to celebrate this year as it should. 
Best Turning 29 Quotes That Are Inspiring!
That feeling when you're celebrating the last year of your 20s, it's not pleasant.
It doesn't need to be so depressing, though!
Have these special quotes about being 29 to feel its glory!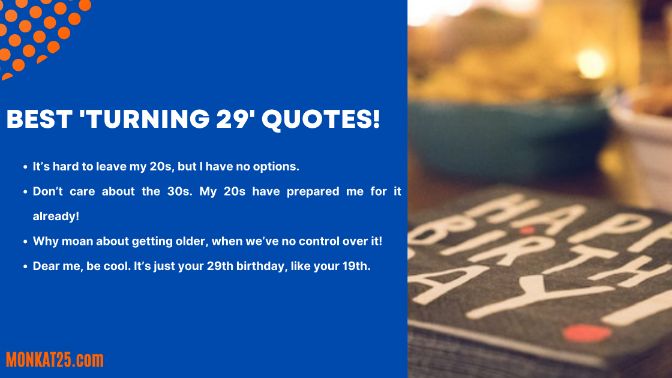 1. Finally entering the last year of my 20s. Nothing can stop me from here. 
2. Almost 30, but wait, it's still one year to celebrate my 20s, right?
3. Don't care about the 30s. My 20s have prepared me for it already!
4. Why moan about getting older, when we've no control over it!
5. For you, I'm getting older, but I see myself as a better person every year. 
6. Couldn't be happier and unconformable at the same time. 
7. Dear 30s, please wait, I will be there one year later!
8. Please don't scare me about the 30s, I know what's coming!
9. Wow! what great 20s I had, now I have just one year to reflect on them.
10. It's hard to leave my 20s, but I have no options.
11. Well, I'm not scared to turn 29 but how does everyone perceive me.
12. I'm happy. Better than before and excited about turning 29. Don't spoil it.
13. Proud, satisfied, and confident about my entire 20s. Just one more year!
14. Hey 30, don't hurry… let me enjoy my 29 just as great as my entire 20s. 
15. Dear me, it's all fine. It's just your 29th birthday, like your 19th. So, relax!
16. Feeling much better about myself than ever. It seems like I'm getting mature!
17. You can enjoy your 30s the same as your 20s, just you've to know how to make it awesome!
18. I'm not going to live my 29 in fear, I'm happy for my 20s and excited for my 30s, too.
READ NEXT: A Letter To Me On My 25th Birthday!
Instagram Captions For 29th Birthday Celebration Posts
If you want to announce your 29th birthday on Instagram, here are the perfect captions for your posts.
This is the way to show, you're not afraid at all, but happy about turning 29.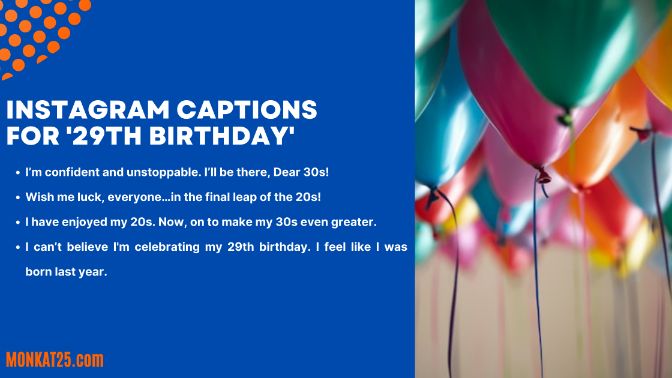 1. Turning 29, I can't decide whether I should be happy or sad!
2. Suggestions and advice are welcome from anyone who is not even 29 yet!
3. I'm confident and unstoppable. I'll be there, Dear 30s! 
4. No, no I'm still 25… I just have extra 4 years of experience in hand. 
5. 20s, 30s, 40s… whatever, I wish to remain this awesome at any age!
6. Wish me luck, everyone…in the final leap of the 20s!
7. Not sad, but excited about the next phase of my life. Happy birthday to my 29th self. 
8. Dear 30s, you can't scare me… ask 20s, how we both survived. 
9. Inviting everyone rather than expecting one birthday party, is an achievement at 29. 
10. Everyone says I'm 29s… but I still think I'm the same as in my teens!
11. I have lived my 20s perfectly. Now on to make my 30s even greater. 
12. Don't give advice, just share your birthday wishes for my 29th birthday. 
13. I don't mind getting older, but staying the same! So thrilled about the next level. 
14. Lived my 20s to the fullest, and I'm ready for my 30s. But, 29 is to revise a great decade. 
15. I can't believe I'm celebrating my 29th birthday. I feel like I was born last year. 
16. Well, I'm already enjoying my life. So 20s and 30s nothing matter to me. 
17. Older, Nah! I'm the youngest in my family so I always feel young, every year!
18. Feeling thrilled, not nervous to celebrate the last year of my 20s!
READ NEXT: Savage (But Funny!) Friends With Benefits Quotes
Funny Quotes About Turning 29 To Celebrate It!
People might mention that your life gets boring and tougher from the moment you turn 29. Or, there will be no fun in life after that. 
But, we know you're not one of them.
So, these are some fun quotes that will improve your mood and make your 29 the best it can be.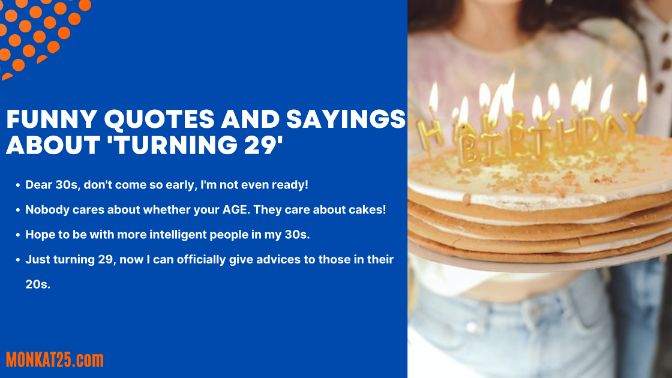 1. Dear 30s, don't come so early, I'm not even ready!
2. Finally, about to hit my 30s, I wish everyone would take me seriously!
3. Celebrating your 29th birthday with family over friends is a better option. 
4. I wish to pick up new hobbies and surround myself with more intelligent people in my 30s. 
5. Hold on, hold on, the 30s… There's still one year. Let me enjoy it fully. 
6. My friends who turned 29, don't recommend it to me. Do I've any choice?
7. Come on, I'm just turning 29, and will also turn 39, 49, and so on!
8. Rather than just saying 29 years older, I must say 29 years wiser.
9. No matter which year of birthday this is. I love celebrating and cutting cake every year!
10. Feeling awesome and my best version. Just turned 29, and my goal is to be 30 soon. 
11. Nobody cares about whether you're in your early 20s or late 20s. They care about cakes!
12. Me to myself on my 29th birthday: Brace yourself… you've got a final year to prepare!
13. Don't worry guys, I'll be the same this way. It's just another birthday!
14. Just turned 29, now I can officially give advices to those in their 20s. 
15. Happy 29th birthday to me. I'm just feeling better and better every year. 
16. Can anyone help me, I don't want to be 29!
17. I just want to tell everyone who is in their 20s: "Enjoy it however you like, you soon turned 30." 
18. Thank you for giving me 29 -one year to be prepared for the next challenge. 
READ NEXT: Positive Facts & Benefits Of Turning 25
Conclusion
When people around you find out you turned 29, they either try to make you feel older or insecure anyway. 
We surely don't want you to enter your 30s with such anxiety at all.  
In such a case, we hope these inspiring and funny turning 29 quotes and birthday captions help you see the bright side of it. 
Let's celebrate this new year to the fullest as you enjoyed your entire 20s!
Indeed, this is the last year of your 20s, but take time to analyze yourself.
See how life in your 20s has shaped you better, and what great experiences and life learning you have had. 
Keep your eyes on the next phase of life. The 30s may seem frightening. But if you want it, this could even be greater than your 20s!