Last updated on December 11th, 2022 at 04:06 pm
Want to try something adventurous in your established relationship? 
Surely you and your partner are trying to find 'a unicorn' on tinder, for sure.
To help with that here are some hot tinder bios for couples looking for 'the 3rd one' to join.
Can Couples Use Tinder?
Indeed, some couples are already using tinder to find a new companion to join. 
It's no secret that tinder is a place for singles to find someone. But, it's not limited to singles only.
Couples who want to share fun, can also hunt for the 'unicorn'.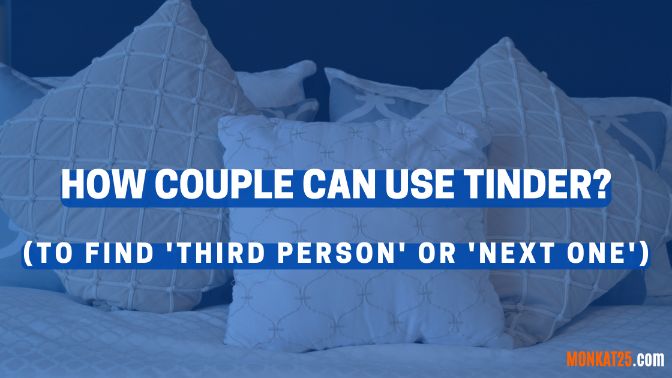 For this purpose, users can change their gender to 'couple' on their tinder profile.
Indeed, you and your partner are seeking a third person, you need to make it clear in your bios what you two are looking for. 
This isn't like the normal bios for regular dating and chatting. 
Hence, if you are looking to find the right person, you need a clear tinder bio for couples and such examples will give some ideas.
By the way, there are also some new hobbies to develop with your partner to add 'excitement' to your relationship.
Tinder Bios For Couples To Find Third Person
If your partner and you both have the same interests and are ready for the adventure.
Take ideas from these bios to let 'the third person' in. 
Such ideas will help you to express your ultimate intention clearly.
So you will end up meeting the 'unicorn' you hunt for on tinder.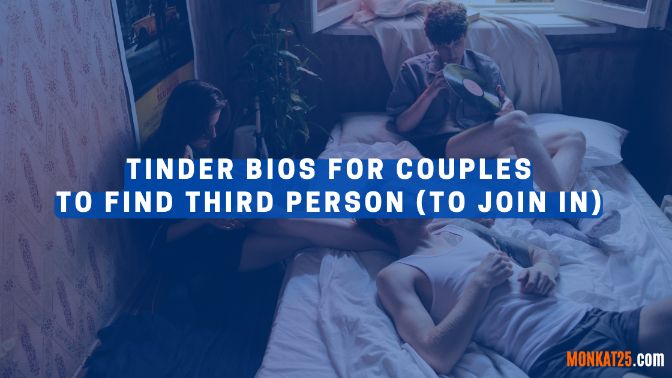 1. We're looking for someone who can record us during the action. We do not actually intend for you to join us. But if you're hot, that's fine.
2. If you are like us and want to know more, swipe right. If you're in love with either anyone us, swipe left in no time. The moment you come in, you've to go.
3. My girlfriend and I are on our way out. Before we leave, we want to make sure to hand over each other to the same person that can match our level. Welcoming both males and females in the game. 
4. In search of someone to surprise my boyfriend with. I want to give him the best birthday gift. (P.S.: And, a memorable experience for me, as well. 
5. Not looking for a threesome, but a wholesome one. Swipe right only if you found one of us attractive and have fantasies like these.
6. We're planning an awesome match this weekend, we're here looking for a third person to be an umpire. She won't play, but will decide the winner.
7. My partner and I are planning a big event this Saturday. I need an extra player as a subsidiary to play from my side. 
8. I often doubt my boyfriend, now I want to involve a third one to see if he falls in love with her or what. I just want to test his level of patience. 
9. Well, nothing is boring about us. Everything is going great. We want to give a third person a chance to experience a great performance. 
10. I just want to make my girlfriend jealous just for once. So she'll take me seriously from then on. Will you be the unicorn for us, anyway? 
11. My girlfriend challenged me to prove my love to her. Help me to show that I can still love her more, even if there's a third girl already.
12. It doesn't matter if you're a male or female, we'll welcome you. We're just looking for a third person to be quite active and energetic to match our level.
Make your situationship spicier with these flirty messages to texts your friends-with-benefits,
Tinder Bios For Couples To Find A Next One, After A Breakup 
Well, if you're just becoming single again or right now in the situation of 'just broke up', here are some suggestions for you. 
These are some tinder bios for broken couples who are looking to move on. 
Such direct profile examples are for those who want to be open about their past or failing relationships.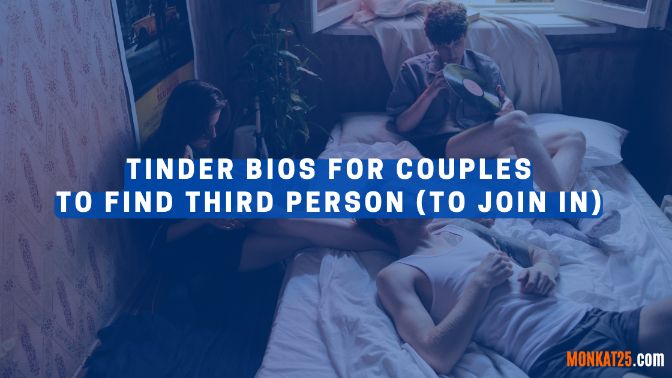 1. I feel like I'm ready for the next one. Of course, that means, the better one!
2. Almost out of the present relationship, I want to have my next plan ready. 
3. If you're also broken up, let's help each other release stress. 
4. My boyfriend cheated on me, so I need some help to make him feel how it hurts.
5. Look, he's my boyfriend, I mean he was. We separated just last week. If you think you're much better than him, you're most welcome. 
6. Before I leave my girlfriend, I want to let her know what she's going to miss. And, I'm in search of the next girlfriend, already. I didn't break up with her but soon I will. 
7. If you want to give a proper leave to your partner, we can team up for that.
8. My partner just left me, and there's a vacancy for the same role. Show me, what you got.
9. In search of someone who seriously wants someone to share life with and create the best memories over temporary desires.
10. All thanks to my ex, finally, I know what type of person I'm looking for. 
11. Frankly, I just became single again. Can't take it anymore, someone please come. 
In search of a new friendship or FWB, now? Maybe these perfect Tinder bios for making friends could help.
Quick Tips To Find A Third On Tinder
Being in an open relationship, you and your partner could find a third person as an individual profile. 
However, tinder allows its user the option to create a profile for such reasons.
Instead of using the routine bio, when you use tinder couple profiles to find a 'unicorn', you're more likely to find the third one who will be interested in what you both desire. 
Also, there are some more tips to consider while setting tinder bios for couples looking for a third 'the unicorn', to help narrow the search.
1. Have a direct profile headline to clarify your intent.
Be very clear with your intention and what brings you to tinder, as a couple.
It's just to get the right person to swipe right, without wasting any time. 
2. Make use of your couple picture. Let them know there'll be two people. 
Pictures are the most essential part to let your potential unicorn know who they are going to work with. 
The clear picture of you and your partner as a tinder profile pic generates interest and makes them take you both seriously.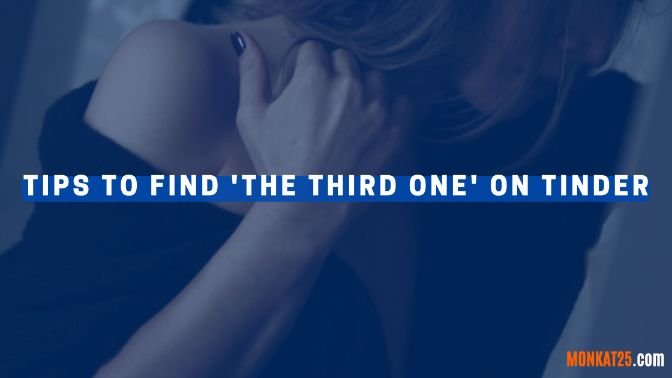 3. Write a clear bio, that's appealing!
You can give some hints about what you two as couples are planning in your bio. 
This is to generate interest and catch the attention of a third person with the same desire.
You can get some ideas from the above tinder bios for couples, but be direct.
4. Discuss the conditions and boundaries, before action.
If you finally get a swipe right from someone interested in you two, you better be very upfront with your opening messages on tinder. 
Make your conversation appealing to them. But share your point cleverly to ignite their excitement. 
5. Make sure everyone is having a good time when it's over. 
The same as you and your partner have the desire to fulfill, you also need to discuss the third person's choices, as well. 
To make it overall a fun experience 'for all', make things obvious from the first to the end. 
You should share your demands and values with each other's desires. 
Well, you could also express your romance for your partner with these: cute Instagram bios for relationships.
With examples of tinder bios for couples already in hand, you're ready for the action. 
Finally, it's still a good idea to double-check before you and your partner move forward.
Because 'temporary' fun is there, plus you also have to consider the other side, too.