Last updated on January 11th, 2023 at 04:41 pm
If you want your dating profile to be more interesting and clever, here are some witty dating profile examples for females and males to use on any site. 
Presenting yourself cleverly and appearing your best helps you get matched on dating sites.
While being witty not only gets you a match but also keeps them interested in you. 
It proves you have some clever and funny things to talk about with your potential match.
The first impression: You're an interesting person.
That's how your match sees you when having a witty profile. 
Well, if you lack wit and wish to capture the attention of your matches, you can check out the following examples of witty dating profiles.
For males and females both, these are some original ideas to get started:
Witty Dating Profile Examples For Females
Obviously, you want to attract males to your dating profile.
Plus, you want your match to see you as a complete package, right? 
So these are some witty dating bios to use for the cleverness in your profile.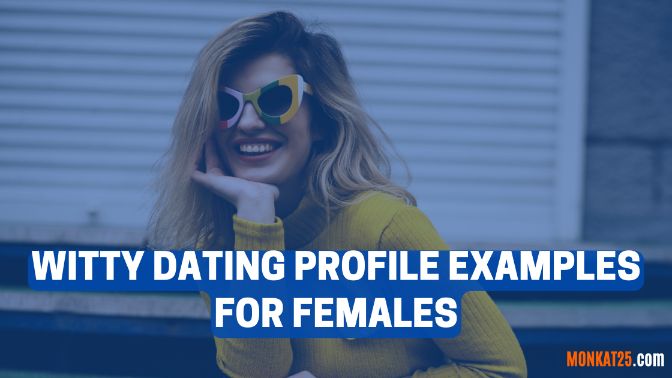 1. Not the type of girl who makes you wait, but the one who gets there before you.
2. I will allow you to be flirty and dirty only if you first prove that you're a funny guy. 
3. I'm not going to ask you if you got a dog or something. I want to date you for who you are, not because of the cute pet you own.
4. Well, I'm the girl who has no problem with your negative habits. (Because I know I have more of them than you do.
5. I often hear from my friends and family that I'm too picky. That is true, and I agree. So, if I accepted your match, you can be proud of that.
6. Dare to use a cheesy pickup line on me and you never get to hear me again. You have my attention even with just 'What's up!' on tinder.
7. I am ready for anything as long as you know to respect my feelings and know how to do it properly. 
8. If you think you can get any girls, be prepared for a challenge. 
9. Instead of expecting a romantic date from you, I rather set up everything by myself, only to see your reaction. 
10. Frankly, I'm not a dancer, so please make sure our date isn't near anywhere around the dance floor, as I find it stressful.
11. I'm not going to take you seriously for our first three dates at least. But I expect you to take me seriously from the first one. 
12. I don't care if you're handsome, a big guy, or earn great, if you make me laugh, I can at least keep you as a chatting partner.
13. Frankly, I am already dating random guys, because I have to know who deserves to be that 'the one'.
14. Well, I know exactly what you're doing on dating sites. When I say site(s), yes that clearly means that I date multiple guys at the same time. 
15. Stay in line and wait for your turn, you'll get a chance to show your moves. The selection process could last long, so be patient. 
16. Don't think that I'm too desperate to get a date. I do look for a date, but that date should be great enough to share on my IG posts.
17. Dear guys, it's not only me but my followers and friends who are also going to judge you and they will rate you out of 10. So be prepared!
18. I already know dude, what are you looking for. You all guys are after one thing only. Prove me I'm wrong, so I can get you there faster than you imagine.
19. I don't expect my man to be perfect. I rather have someone to share a good time with and develop a connection to rely on. 
20. Show me what you got that other guys don't and you'll have me. But wait a minute, how do you figure out what other guys have?
21. If you prove that you don't want it, I will give that to you. but if I sense that you are only after that thing, I will take yours, even without your knowledge. 
22. Stop falling in love with me on our first date. I give you a chance to see me personally, and know me better and if you are willing to take risks, that's fine. 
23. I don't want to lose this thrill of meeting a new guy every week unless you show me you could entertain me for life.
24. 'Love', 'the one', and 'marriage' will come one day. Before that, why can't we just have some fun together?
READ NEXT: Best Hobbies For Couples In Their 20s
Witty Dating Profile Examples For Males
You want your dream match to remain interesting to you.
When you're not sure how to create a witty profile for yourself, these are the perfect ideas to grab girls' attention.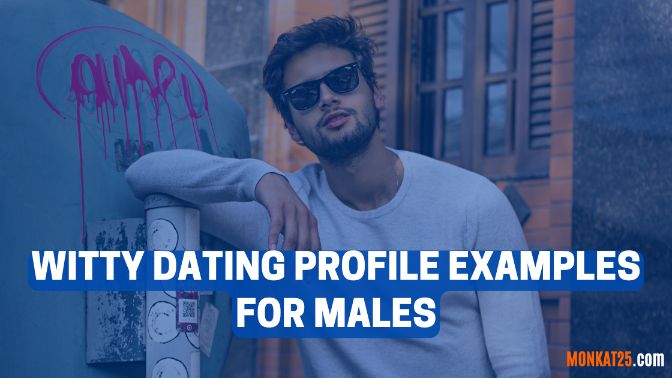 1. Most girls are looking for a guy who can make her laugh. But I'm the guy who looks for a girl with a level of sense of humor to give it tough competition. 
2. Looking for a girl who can handle me as I am not even able to handle myself, either. 
3. Right now, I'm not looking for something specific or too deep, or too open. I just want a girl to have some fun talk and see if we could remain friends If not the match. 
4. I'm available to meet any girl, which means anyone here is looking for a friend (Or Friends-With-Benefits), a partner, or just for dating. But I hope she's witty and honest, too.
5. That would be my dream girl who would help me stop my addiction to playing video games all day and give me something more exciting to play. 
6. I think I make the best pair with a girl who looks cute but has a dirty mind. And we're going to share dirty jokes about someone still being innocent. 
7. Without my parent's approval, nothing could be done. But, if they aren't at home, there are a lot of things that can possibly happen. 
8. I love food and on our first date, if I pay attention to you more than the food, that means the food isn't that great or you're so hot.
9. I don't care if you have a boyfriend or what, if you and I are matched here, that means we're already on our way to starting our relationship.
10. I simply hate those girls who say how much your height is. First I think you ask because you're the tallest one. And second, height won't matter during the main course of action.
11. If you're on tinder looking for a third, I need to check how you two look. Also share your expectations with me, because mine would be a lot crazier. 
12. Whether we go to heaven or hell isn't the matter right now. What I see is, we're going to my home after our first date. That's it.
13. Don't worry I'm not going to ask about your pictures. Rather I want to experience it in person. Maybe after a few dates. 
14. Right now, I don't see myself as ready for the relationship. But that doesn't mean I can't have some desires; we can fulfill them temporarily. 
15. Well, I respect and admire every girl. But the only ones that make me intimidated are the ones who love shopping and the ones who are taller than me. 
16. For you, I can leave soccer matches and also get rid of my weird habits. But you first have to show me what I'm getting in the end. 
17. I know all things come to one point, but don't take me as any boy. I might have the same goal to date, but I'm also not crazy about it, for sure.
18. Tell me what you are looking for in a guy because we guys don't have to be very specific, we all are the same. You girls have lists of choices.
19. I'm not the guy who will flirt with you, because I don't know how you're going to take it. But yeah, I might share jokes anyway whether you like it or not. 
20. Nothing makes me more worried than the thought of what if a girl I date will team up with my family and then they all poke fun at me. 
21. Dear girls, you can kiss a frog to find your price, but don't kiss me when I'm already there for you. why?
READ NEXT: Best Responses To 'Hi' Or 'Hey' On Bumble
How 'Being Witty' Can Help You In Online Dating?
Whether your dating goals are long-term or casual, you get the match only when you impress your potential match not just with looks, but also with your wits. 
A witty personality could be a major matchmaker. 
That's not just limited to guys, even girls need to prove they're not just cute, but clever as well. 
Having such wit makes your match more excited about you.
Well, you can also use such best examples of backhanded compliments smartly to start a fun conversation with someone.
If anytime, when you want to make your profile clearer and more entertaining, you can follow these witty dating profile examples for males and females, to use your words cleverly.