Last updated on December 29th, 2022 at 05:40 pm
A simple 'What's up?' from your tinder match does not mean this connection won't be fun. 
Still, you have a chance to make your very first conversation memorable. 
You just better know how to respond to 'what's up' on tinder (Or Bumble), more creatively. Also, it is advisable to answer positively and based on your dating goal.
When your match begins with such a regular message like 'wassup', it's hard to decide what to say next. 
Now, this shouldn't concern you at all. 
Try to keep up the conversation with a funny or flirty response. Here are the best replies to get you started.
Clever Responses To "What's Up" On Tinder
If you're completely unsure and 'what's up' from your tinder match leaves you wondering how to answer, these are some clever suggestions for you. 
1. "Woah, I didn't expect that. It's fine! I'm good, What about you?"
As your match cares to ask you 'what is going on?' or, 'How are you doing?' over text so give them a satisfactory reply. 
2. "Everything is simply perfect here. Thanks for asking."
After all, you want to know more about your match.
So, instead of thinking over a regular start, keep the convo going.
Here, you act as if your match asked for your WhatsApp number. 
Tell them you don't feel comfortable sharing personal information too early. 
It's just a cheesy joke to make the situation a little lighter. 
4. "Right now, I'm up to growing my relationship with someone."
Of course, that's what you are doing here. 
Let this person know what you're up to and what are your dating goals. This is your chance.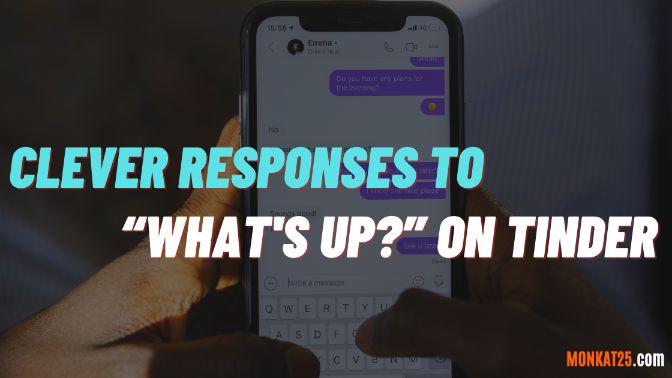 5. "It's the gas price that's up. But I'll take you for a ride, still."
It could be a corny response to 'what's up' on tinder, especially. 
But, if you feel that your match won't take it seriously, you can share it, though.
6. "I was down until I saw your profile."
Tell your match, you're so impressed with her profile. 
Most people directly talk about profile pictures and all.
But it's good if you mention things you like the most in your match, especially for a girl's tinder bio profile. 
7. "I'm up for everything, tell me about you."
With Tinder and other dating apps, all you want is fun. 
You aren't serious about anything. Your goal is to spend quality time with someone. 
Then, this is the response to 'what's up' you should give to your tinder match. 
8. "So nice of you to ask, I'm very well. I like the regular start."
You don't have any problem if your convo starts slowly or as regularly. 
You're glad at least someone is natural and not appears too flashy when it comes to starting a conversation with a tinder match.
9. "Nice try, let me start it for you."
You sense that your match is shy or probably new on tinder. 
Give them some good responses and let them know that you're ready to help them figure out tinder dating.
READ NEXT: Simple Match.com Profile Examples For Males
Funny Responses To "What's Up" On Tinder
The first interaction on tinder after matching needs to be enjoyable for you both. 
If you feel comfortable and want to impress them with some humor, here are some fun replies on tinder for 'what's up? ' from the match. 
10. "Hey Siri, what to reply when someone cute messages me 'wassup' on tinder?"
It's exciting to see how Siri will respond to it. 
But, if you want to make your match smile, this is the nicest response to give. 
11. "Hey Bro, I'm all great as usual."
You usually get 'wassup' from your buddies and as your match first starts this way, you can be friendly, too. 
This is a fun response especially when you're sending this to a guy asking: 'what's up'. 
READ NEXT: Tinder Bios For Couples Looking For Third
12. "Just because I like you, I give you another chance."
Otherwise, you would swipe left on this person immediately. 
With your response, you try to show that you find your match special or cute. 
13. "I'm a lot better now, at least as we've started texting!"
Show your excitement to chat with your match. 
They might find it encouraging to talk more about themselves and make convo going after just 'what's up?'
14. "Trust me you really don't want to know this."
This is actually to use as a funny response to wassup over tinder chatting. 
But you should use it wisely, because your match could take it the wrong way, mostly the dirty way.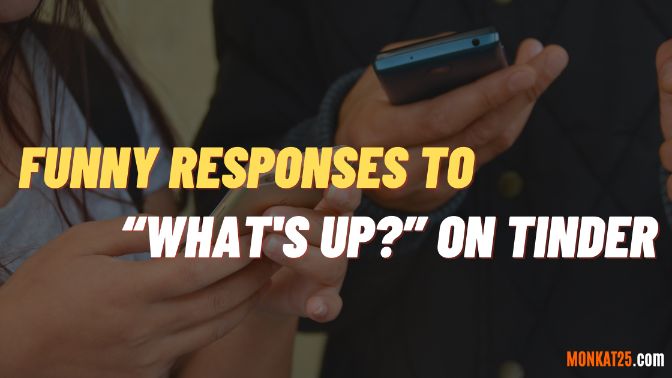 15. "I was about to ask the same. We're a perfect match then."
Earlier, you are unsure of what to say to a tinder match on the first message. 
You were about to start with the same, but before you send, your match sends the same. 
This is nothing but a sign that you two are a perfect tinder match. 
16. "What an unexpected start! I loved that."
You didn't usually get such a normal message on tinder. 
But you enjoy this time because someone is being real rather than just trying to impress you with cheesy lines. 
17. "I'm just thinking about you over what you think about me." 
You really feel the connection with your match already. 
And when your match asks, 'what's up?' be real with what you are thinking at the moment. 
18. "Your this message helped me to feel more relaxed, thanks."
You were afraid to take a move because you feared losing your match. 
And now, your match texted 'wassup' you're now feeling more at ease to speak up. 
READ NEXT: Good BFF Matching Bios For TikTok
Flirty Responses To "What's Up" On Tinder
Whether you're ready for a casual or long-term relationship, you want to make sure that the match knows about it. 
If your match has mentioned the 'Dating Me Is Like…' jokes in their profile, following that you can try some flirty replies to 'wassup' on tinder over text. 
19. "I'm really excited today" "Why?" "Because we matched, finally."
Let your match know that she/he really makes your day. 
You can also share some thankful text messages to respond with to inform them how great you feel now. 
20. "Definitely not up, because we've just met and not this before."
Get a flirty start with your match by responding this way. 
Show you're excited to meet them on tinder. 
21. "Really so happy to know that we're matched!"
Finally, you two are matched and start talking, you are enjoying every second of it. 
It's always a good idea to express your thankfulness for accepting your match request.
READ NEXT: Cute Matching Bios For Instagram Couples
22. "I'm good, tell me if you're down to date."
You want to cut through the formality on Tinder and get right to the point. 
If your goal is to have a date, this is the flirty response that can get you one. 
23. "I just completely lost my word, meeting the cutest person on tinder."
Well, you could use here the 'beautiful' or 'hottest' person. 
But in most cases, complimenting on the looks might be taken wrongly. As you're just after their looks and not personality.  
24. "I'm on a mission to find someone like you."
Your tinder match asked 'what's up?' and when you reply with this it shows you feel satisfied and confident that you're now together.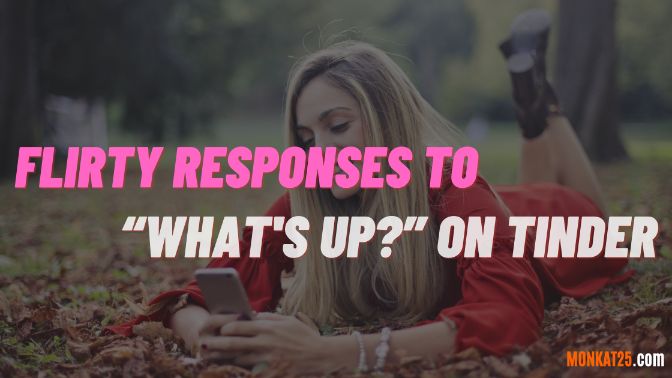 25. "Stop going off the topic, we are supposed to discuss something else."
Better if your match is already aware of what kind of relationship you look for. 
To cut down to the chase, this is the most direct but flirty answer to 'what's up?'. Hence, no one needs to wait any longer.
26. "Awww… you care to know how I'm doing. Is that mean, we are married now?"
On Tinder, you have never been so serious. 
And as your match asks you 'wassup?' maybe they want to check how you're actually doing. 
Usually, you only get such a kind gesture in lovely relationships, or in developing ones. 
27. "I'm just waiting for us to meet on the weekend date."
There's nothing to be shy from. 
If getting your match on a date is your goal, just say so. 
28. "Don't worry… I'm yours already with this unique first message."
While everybody on tinder hopes for some creative pickup lines and openers, your match follows the regular approach. 
You're happy that your match isn't a show-off, so you appreciate them this way.
Conclusion
Most people on Tinder believe the funny first message to your match is enough. 
Sometimes that is the case. But, the goal is to get the conversation started.
A regular start like 'what's up' on tinder can make it feel as if your match isn't interested or does not feel for you. That's not true.
Maybe this person isn't comfortable with using pickup lines or anything fancy. 
The reason for starting with regular messages is to let the connection grow by getting to know each other better. 
Hence, it's not necessary to be negative and uninterested. 
Your match might be new on Tinder or uncomfortable with taking any risky move.
However, knowing how to respond to 'what's up' on Tinder will keep the conversation relaxed and focused on the shared dating goal.