Last updated on July 12th, 2023 at 04:55 pm
If you just installed tinder, seeking fresh bio ideas, or want to makeover your tinder profile…
Here is the ultimate collection of the best tinder bios for girls, covering everything you need in one place.
Such 'unique' ideas (and examples) for women will help in deciding 'What to put in your profile' that let your personality shine through. 
Well, this article presents you with simple, good, clever, witty, and short funny tinder bios examples that resonate with most females' dating goals.
ULTIMATE Lists of Tinder Bios Ideas (For Girls)
Writing a great bio for girls is not equally but way more important than the guys. 
Here, you need to appear your 'natural' best self.
And that, without giving too much away. 
It's not always about 'How you look' in your Tinder profile pic.
But, How do you make boys feel when they're reading your 'About Me'.
From displaying your expectation clearly to being your best version, you're free to choose on... How to present yourself on tinder. 
And, there's no standard rule or profile template.
You can let your wit, creativity, and humor shine through in your writing.
Well, tinder bio isn't limited to (show-off) who you are and the type of match you expect on the platform.
Essentially, it's a way for you to set a good first impression.
And, Of course, to let the guys know that you're a girl with standards.
Being very clear with your interest is a must.... as it increases your chances of finding the perfect match (or date).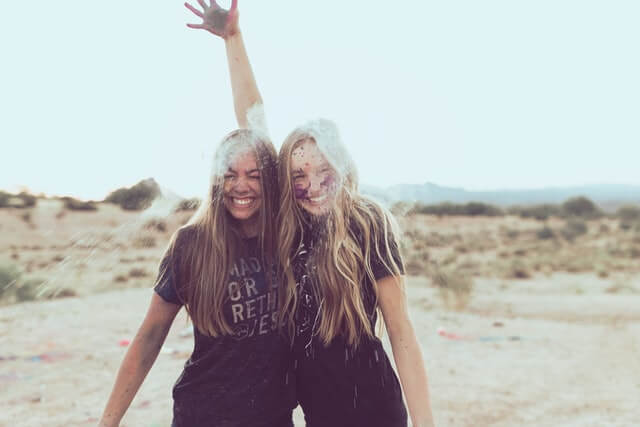 In short, no matter whether you're looking for a serious relationship, a simple chat partner, romantic dates, or just some fun... work on your 'About Me' section.
Especially as a girl, you need to be extra clever with how you present yourself on tinder.
It's certainly challenging to come up with perfect bio tagline ideas that match you.
So, here you'll find the collections of the best tinder bios for girls to boost your confidence and creativity.
These creative bio examples and taglines will help you come up with the perfect one.
The provided lists are all yours.
Whether you want to create just cute or clever bios or else, pick the list that matches your style.
You can use them as profile templates to personalize your bio.
Select the one that is your style and sets you apart.
On top of that, we're also going to share effective ways to make a good tinder profile after covering all lists. 
We've recently posted an article about the best tinder pick up lines for girls, that covers fresh and no-so cheesy opening lines.
Make sure you read that article, too.
For now, let's focus on this dedicated list of tinder bios taglines for girls to get started.
These are the best ideas you can use to make a profile that gets you 'quality attention' only. 
Ready to get started? Let's go, then. 
Good Tinder Bios For Girls To Follow Right Now
In your selfie,  you appear to be a 'cute girl' that any guy would like to chat even as a friend.
But, If you want 'only' the right tinder matches… be sure you've your bio written accordingly.
It makes perfect sense to use one of these bio lines, whether you're just getting started on Tinder or looking to update your profile.
This puts your personality forward.
Plus, such examples will save you some time learning about the platform instead. 
Check out these tinder bio taglines for girls that you can just copy-paste into your profile.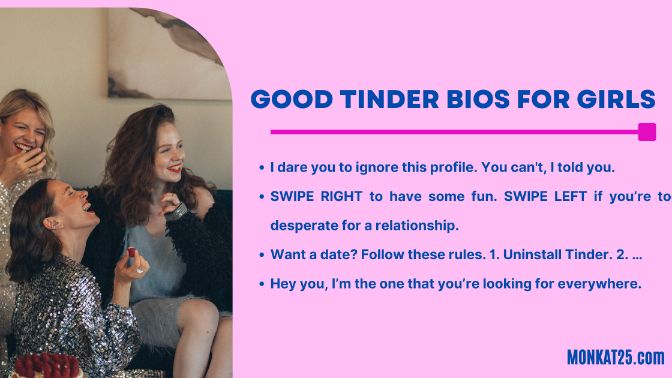 1. Looking for a guy who can literally delete tinder when we begin dating.
2. Consider sharing the good time first, before the BED. Don't reverse it.
3. You can definitely call me a good girl. But, I can also be bad, if you want to.
4. Tell me just one good reason why you're still single. And, then we go ahead.
5. First, order pizza for me. Only then I will deliver my pictures to you.
6. I dare you to ignore this profile. I know you cannot. Now, swipe right. 
7. Can we just stop talking and just fix our date? 
8. The guy above 6 feet, Swipe right. I'm looking for a home decorator urgently.
9. Be with me and we will do everything possible. Think of going away from me and you will remain lost forever. 
10. For tinder, I'm 19. For you, I can be anything from 21, 25, 29, 34…
11. SWIPE RIGHT to have some fun. SWIPE LEFT if you're too desperate for the relationship. 
12. Come in the whole package, so that it's easy for me to break you from inside. 
13. Looking for someone to make my weekend awesome. 
14. Well, I am proud of myself. Want to know why, then swipe right. 
15. Want a date? Follow these rules. 1. Uninstall the Tinder app. 2. …
16. Need a guy with confidence like an Internet Explorer that dares to ask you to make it your default browser, still. 
17. If I have blocked you on Facebook, unfollowed on Instagram, or reported on Twitter, don't ever think of contacting me here. 
18. Respect me and I will do the same. Screw me and I will double screw you. 
19. Feeling like I'm too hot to handle? Then, better to stay away. I don't want to fry you. 
20. Hey you, I'm the one that you're looking for everywhere?
21. I can go from cute to crazy in a flash, so go ahead with your own risk.
22. Not desperate like your ex, not perfect as you think. I'm just who I am, you have no choice.
23. I might play hard to get, but please don't give up.
24. Stop looking for any girls on tinder, have a lovely lady instead. 
Read next: Cute & Clever Things To Say To Your Crush
Simple Tinder Bios For Females To Give A Sassy Look
Well, you never have to be funny and the best one to catch most guys' attention on Tinder.
Sometimes, it's better to stay simple and attract the right kinds of people who match your personality. 
And if you're thinking of giving a simple and sober look to your profile then here are some smooth yet interesting Tinder bio lines for girls you can use instead.
It's not that old-fashioned, it just keeps you grounded and presents you as awesome as you are.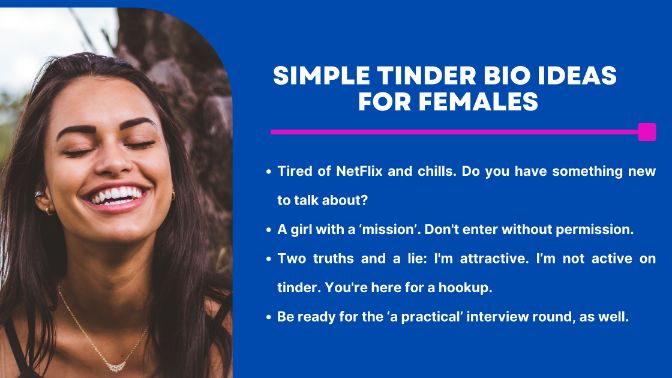 1. Roses are red. Violets are blue. I'm looking for a date(s), nothing else to do. 
2. Need someone to guide me through how things work on Tinder?
3. A certified drama queen. Make sure you are ready for that in advance. 
4. Swipe right and screw your life. Swipe left and save your life. 
5. I am looking for a guy who has never talked with any girls, isn't hooking up with anybody, and doesn't even have a profile on Tinder. 
6. I don't want you to be perfect, I wish you admit that you're not perfect. 
7. Tired of NetFlix and chills, Do you have something new to offer? Then swipe right. 
8. Dinner date, movie, museum, ready for anything. Just make sure you can pay for it. 
9. Successfully broke the hearts of 27 guys. Still, searching for true love. 
10. Two truths and a lie: I found you attractive. I'm not active on tinder. You are desperately looking for a hookup.
11. I want to date a guy that my parents will like. And, on the first introduction with him, they give me a look, saying… 'Good choice'.
12. I will give you anything you want. But, before that, let me take everything from you. 
13. Go ahead only if you're a good guy. Wait a minute, what are you doing on Tinder, then?
14. Do you love yourself? Do you prefer yourself before anyone else? Stay away from this profile, you narcissist little piggy.
15. Seriously, I'm not interested in becoming the perfect woman in the world, I just want to remain the only beautiful little girl the way I'm.
16. I'm the girl with a 'mission'. Who the hell gives you permission to come here?
17. Wanting to be cute for someone, and being hot for everyone seems too boring now.
18. Trust me, there isn't any filter used in the profile picture. 
19. Find suitable holes somewhere else, not here. You're not going to get any.
20. Swipe left or you'll regret it. Swipe right and we both regret it together.
21. There'll be 'a practical' interview round. Be sure, you come prepared.
22. I'm the kind of girl who makes you forget about your crush.
23. Well, my expectations are not that high not too low. I will rather be adjustable to my match. But yeah, at least I expect that that guy would have great taste in music.
24. This place is only for a guy who hasn't set a mobile password. 
25. I'm mature, independent, and feeling ready to meet my dream man. 
26. Looking for a man who is genuine, hardworking, and fun-loving.
Are you also on hinge? We got something for you. Here's a list of clever hinge prompts and answers for girls that you can add to your profile to express your honest character. 
Best Tinder Bios For Girls To Create A Decent Profile
Indeed, you may find hundreds of tinder profiles that actually look stunning and simply out of the crowd.
You have to create an attractive profile that makes a unique impression from the first phase.
And that's not only because of the perfect selfie picture they have as their profile pic…
But it's because of what they wrote as their bio. 
Now if you want to make your tinder profile standalone but don't know where to start, then take a look at these tinder bio taglines for girls' profiles that we specially prepared for you.
Feel free to use this as it is or get some creative ideas to mold according to your personality and tinder goals.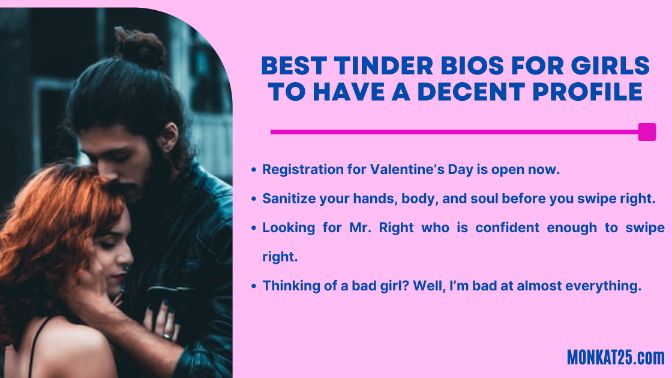 1. I need someone to share everything I can and leave me at the moment when I need him the most. 
2. Wanting someone to break my heart so I can focus on my studies instead of falling in love. 
3. Need a badass guy, who isn't only looking for a fine ass. 
4. Be the 43rd guy that I have dated on Tinder. My goal is to reach 50.  
5. Registration for Valentine's Day is open now. Send your inquiries now. 
6. Firstly, I hope you know how to pronounce my name properly.
7. Please fill up the form given below and send it to the given email address. We will get back to you. 
8. Be ready with at least three reasons why you swipe right. You'll be asked. 
9. Sanitize your hands, body, and soul before you swipe right. 
10. I'm a good sucker. Especially the life part. 
11. Every person I know tells me… I lack something. I think it's probably 'YOU'. 
12. Don't send your connection, you filthy minds. I'm here to stalk my boyfriend. 
13. There's only one reason why I don't want to visit Antarctica: I'm too hot. 
14. Looking for Mr. Right who is confident enough to swipe right. 
15. Need some dates to prove that I'm experienced and not a fresher. 
16. If you're tired of searching for the right match?? You can take a break here.
17. Stop comparing me with your ex. Well, I'm actually the worst.   
18. Make sure you're not that guy who also brings his mama on the date. 
19. I'm the type of girl that you wish you would never want to meet again.
20. Thinking of a bad girl? Well, I'm bad at almost everything, as I know.
21. I'm the Christmas present you've always wanted since you were a teen. 
22. You have me if you can impress me without the pickup line.
23. Tell me which type of pizza is your favorite? That's a deal-breaker question.
24. I've no idea how to describe my perfect match. But, when I meet him, I will feel it. 
Read next: Good Tinder 'About Me' Bios For Guys
Clever Tinder Bios For Girls To Bring The 'Quality Attention'
You're confident and there is nothing required to prove that.
You are independent enough to make your own decisions and stand by yourself with your opinions.
Such female profiles with clever tinder bios separate themselves and ultimately make the bad guys out of the gates. 
Well, sassy bios are enough to warn the jerks to stay away from this bold woman.
But, the great thing is that such a clever approach ultimately brings the right attention to your profile.
So if you're looking for some straightforward tinder bio lines which are also funny then the next list is all for you.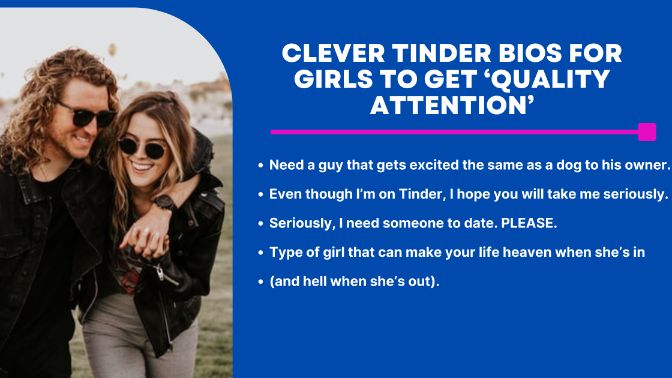 1. Feelings are hard to catch, so try catching pokemon. 
2. I'm the girl that definitely makes your mom feel proud and your ex feels jealous. 
3. Tinder is really strange… my previous date is my dad, at the moment. 
4. Looking for a guy who can't sleep without me after a one-night stand. 
5. Reason #17 to be on tinder. To keep my man serious and insecure about our relationship.
6. Welcome fine guy to my profile. Park right, I'm not as fine as you might think. 
7. Based on my recent experiences, I would like Tinder to change "It matches" to "Tonight's dinner fixed." for my profile. 
8. I'm the type of girl that can make your life heaven when she's in (, and hell when she's out). 
9. Urgently looking for a part-time boyfriend. Please send your CV here.
10. Looking for a foodie (not a lover). The plan is to have dinner at the nearest restaurant offering the best deal for couples.
11. First, Let's meet as strangers. Then we leave each other as strangers. 
12. Protect yourself, first. Your girlfriend is already on my list.
13. Need a guy that gets excited the same as a pet dog after seeing his owner. 
14. Forget about feelings and stupid love things. How much money do you make?
15. Not too dumb to sleep with anyone on the first date. 
16. Don't judge me by my looks. It's my friend's pic actually. 
17. Send your request and messages here. Hopefully, you may be replied.
18. Here on tinder to prove to my ex that I can have a better boyfriend. 
19. Seriously, I need someone to date. PLEASE. 
20. Your application is received. Please wait, we will get back to you, only if you are shortlisted.
21. Not a perfect man, just an imperfect one with whom I also can be my imperfect self. 
22. Even though I'm on Tinder, I still hope you will take me seriously.
23. A girl with curly hair, a curvy body, and a cocky personality… and if you've swiped right, I believe you know to handle them.
24. Here for a man who picks me up with just a simple and clear line.
Read next: How To Improve Your Dateability? (14 Ways)
Best Tinder Bio For Women Looking For Serious Relationships ONLY
Surprise, yet it is possible to have a serious relationship using Tinder.
It's all because of those genuine people who really want to find someone to spend their entire life with rather than just the coming weekend.
If you're looking for the right guy, don't lose hope… Because there must be the one who is also somewhere searching for you, as well. 
To help in this quest, here we are going to share the best tinder taglines for ladies or girls who are seriously searching for their ideal partner.
Well, here listed bio lines not only get the attention of the right one but also keep the players out of the gate.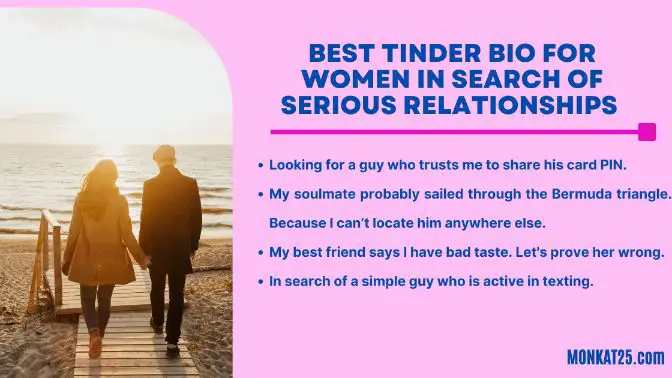 1. Go ahead only if you're single, sexy, and serious for a relationship. 
2. If you dared to play with me, I would fix your date with my nemesis. 
3. Looking for a guy who trusts me enough to share his card PIN. 
4. Together we can do many things possible, marriage is the one. 
5. They say the right one comes to you at the right time. However, I lack patience and I am desperate to date someone. 
6. I won't tell you about my past. Because that's over and there is nothing to share because I can't remember anything for long.
7. My soulmate probably sailed through the Bermuda triangle. Because I can't locate him anywhere else. 
8. Just created my tinder profile. I need some experienced but cute guys to teach me how things work here. 
9. No more players, I'm already well-trained. In other words, be cautious or stay away. 
10. No more hook-ups or one-night stands, only serious relationships allowed…, says no tinder profile ever. 
11. I'm not your momma, I am supposed to be your kid's momma. Better be grow up. 
12. Looking for a badass dude for my smart-ass. 
13. My best friend says I have bad taste. Wanna prove her wrong? 
14. Need a guy who can accept me as I am, because I'm tired of wearing make-up.
15. Interested in someone who has never been in a relationship, is a virgin, and is looking for a true life partner. Same as me?? 
16. Old wine with a new bottle, but a better taste. 
17. In search of someone who makes me feel comfortable getting naked with them. 
18. If you ever try to cross the line or play with me, I'm sure I'll marry you and I'll screw you for your entire life. 
19. Better than your ex, but worse than all of them combined. Don't forget that. 
20. Let's match and then date each other to check whether we needed this date or not.
21. My dream date will be that simple guy who enjoys walking at the beach in the evening and is quite active in texting. 
22. Looking for a guy who is as serious to start a family as my parents expect me to be at this age. So that I can get rid of that family burden and that worried look from my neighbors.
23. I'm just a simple woman, in search of her special man.
24. Here only for my dream man. No idea if he is here or not, but I'm hopeful.
Have you found your match and looking for some good questions to spark the conversation? Then refer to this post covering Funny and Flirty Questions To Ask A Guy On Tinder.
Witty Tinder Bios For Females To Give Your Profile A 'Cool Look'
If you look at some of the best tinder profiles, you can see that there is one thing in common among them all.
And that is a catchy tagline, that perfectly matches the tinder profile as well.
Indeed, you may have awesome ideas to try. Simply try them.
Never limit yourself from presenting yourself genuine Self.
Make sure you look entertaining and funny in the first phase.
Want some examples then take a look at the given list of witty tinder bios for girls.
People love crazy profiles with entertaining elements, and these catchy bio lines prove it.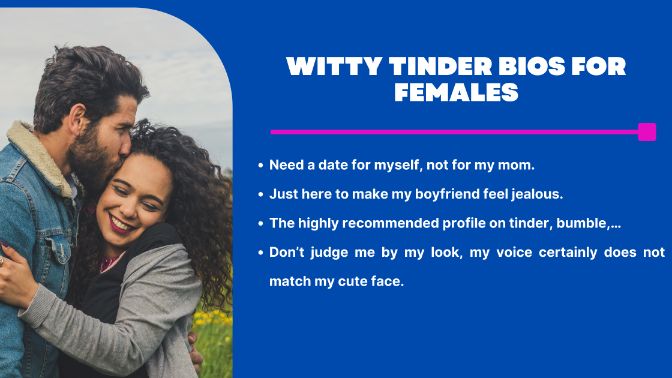 1. Yes, I was hurt when I fell from heaven. Are you happy now?
2. If you have goals then what are you doing here? 
3. Need someone with whom I can lose my virginity, hair, and teeth.
4. No more love nonsense. Just hookups and nothing else.
5. Wish someone would take away my loneliness. 
6. Need a date for myself, not for my mom. 
7. At least, you won't be jailed, I promise.
8. You will be my first target if you swipe right. 
9. Just here to make my boyfriend feel jealous. 
10. Kind of a girl that may let you end your friendship and family relations.
11. From blush to flush. And here we are on tinder… All looking for a 'Love'.
12. Don't swipe right if you're only for hookups. Just note my address. It's a…
13. I want to be a reason to stop a guy from screwing his life. 
14. Feeling too jealous to tolerate a pair of shoes that stay together perfectly.
15. Go ahead only if you're serious about the relationship and need a woman, not a girl. 
16. Don't hate people alone. Let's hate them together. 
17. The highly recommended profile on tinder, bumble,…
18. Don't judge me by my look, my voice certainly does not match my cute face. 
19. Just because my name is Alexa, doesn't mean I'm dumb to answer you on anything.
20. Only a real firefighter can handle my hotness, says my bestie.
21. Dad's a little 'Princess' on tinder, in the search of her 'Prince' charming. 
22. Of course, women should be paid equally. But that won't hurt our relationship ever.
Read next: Psychological Facts about Crushes and Teenage Love
Short Funny Tinder Bios For Girls Who Love 'Direct Talk'
We are in the fast-forward life. And when it's about tinder bio, nobody wants to read out all life journeys so far.
Stay minimal and let your originality attract the boys. 
Don't aim to look perfect, just stay short and straightforward while writing your tinder bio.
But, if you're not sure what it will be, then our next list of short tinder bios for girls that definitely make your profile engaging and swipe-worthy. 
Remember: You can say a lot by using a few yet meaningful words.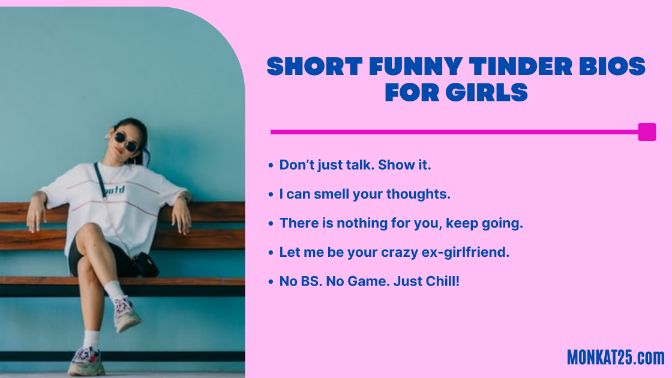 1. Not your average Dreamgirl. 
2. What!! Is the profile pic not enough?
3. Let's do nothing like every other profile on tinder. 
4. ONLY Family pressure brought me here. 
5. Are you good-looking? Confidence-level test #12.
6. Don't just talk. Show it. 
7. Nice guys, stay away. 
8. Angel in the day, Witch in the night. 
9. I will cuddle you so hard that it makes you pay me for it. 
10. I can smell your thoughts.
11. Stay tuned for the next update. 
12. Let's get lost together.
13. BEWARE: Too much attitude ahead. 
14. Don't laugh, you're also on tinder. 
15. Let me be your crazy ex-girlfriend. 
16. Before we die, let's die together. 
17. I'm sure you will be amazed later on.
18. There is nothing for you, keep going. 
19. Not a genie to fulfill all your desires. 
20. Just go on and never turn back. 
21. Are you done looking for holes?
22. Guys with small minds and small weapons… Stay away.
23. Go ahead only if, you feel comfortable.
24. OUT OF STOCK. Better luck next time.
25. Just make me feel good about myself, and I'm Yours.
26. No BS. No Game. Just Chill!
Note: Through your profile, you're actually providing some good reasons for 'why you should date me'.
Cute Tinder Bios For Girls To Have 'Feel-good Profiles'
You want to look as cute and presentable as possible to guys who are about to check out your profile for the first time, Right?
Well, you better don't settle for your selfie alone.
You also need some impressive tinder bio examples for girls that accurately describe your personality.
There's no need to worry if you are not sure what to write or have any idea how to express your personality through such creative bio-lines.
Our next list is the right collection of cute tinder bio ideas for girls that you can simply copy-paste as it is.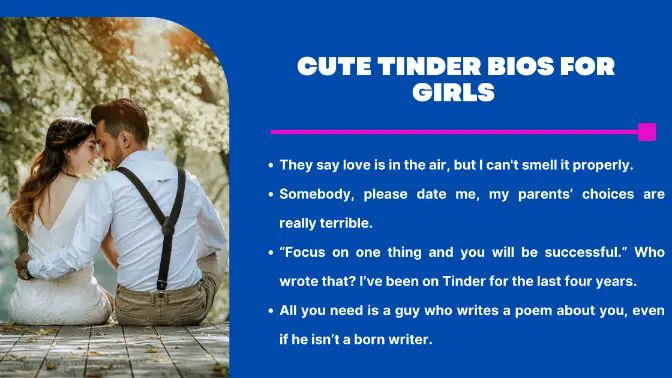 1. Come on, let's help each other in finding the right date, after our first date.
2. I would like someone to date at least temporarily so that my friends and family know that there is nothing wrong with me. 
3. All I want for Christmas is you. By the way, what's your name?
4. Dare to play with my feelings, and I'll show you how to do it precisely. 
5. They say love is in the air, but I've had a nose issue since I was born. 
6. I may not appear as a royal person but I will be loyal, and I can promise that. 
7. Somebody, please date me, my parents' choices are really terrible. 
8. I am looking for someone who will take care of me as people do for the lost kid in the supermarket. 
9. "I'm still struggling to find the perfect match", Me: "Oh, you really."
10. If you always get in a hurry, you only get furry so have patience instead. 
11. We have received your application and we will try our best to get back to you. (p.s: If we haven't contacted you for more than a week, take that as a no and stop looking at this profile.)
12. Let me guess… you don't want to die a virgin. No way… You're, too?
13. I was lazy during my college days and my school days. For that reason, I have to put in so much effort to find the right partner for myself.
14. "Focus on one thing and you will be successful." Who wrote that? I've been on Tinder for the last four years.
15. First, they tell you to be yourself. And, when I be myself… then they say, "You're crazy-ass, girl". That's not fair.
16. You can't love someone else if you can't love yourself. I'm done loving myself, I think loving someone will be more fun.
17. I need someone to call me cute, sexy, or beautiful and actually mean it.
18. Tired of advising others about how to get into relationships and to make dates interesting. Now, it's my turn to actually apply, what I've been advising others.
19. Looking for a guy who is cool enough to melt down on me, because I'm too HOT.
20. All you need is a guy who writes a poem about you, even if he isn't a born writer.
21. When you forget to open the car's door for me, I will forgive you. But, if you forget the day we met, and in particular my birth date… you will forget all the good things in your life. 
22. Not a princess, but a queen who loves to build our emperor together.
Read next: Interesting Questions to Ask on a First Date
Hilarious Tinder Bios Female To Leave A Good 'First' Impression
Want some crazy and hilarious lines for your tinder profile?
Check out some of the best tinder bio examples for girls for an engaging profile.
Such tagline examples are suitable to be applied to your profile without too much waiting.
Especially, when you're running out of time and ideas, as well.
Go ahead and pick the one that you make suits you perfectly.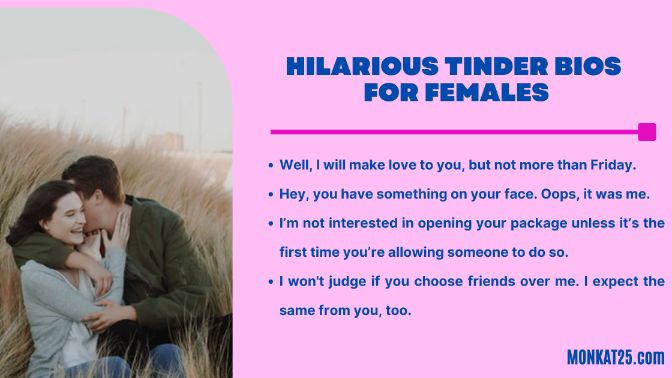 1. I will make you laugh. I will make you cry. I will make you fight with me. But in the end, you will say, you enjoyed that.
2. I bought a double bed, but forgot to order someone along with it.
3. Read your books as passionately as you read someone's tinder bio and about me.
4. Well, I will make love to you, but not more than Friday. I'm sorry, but that's the truth.
5. Love will be there until you want it, and hatred will be there until I want it.
6. Hey, you have something on your face. Oops wait, it was me.
7. Seriously, you deserve something better. Yeah, just like me.
8. Caring, respectful, loving, charming, sexy. Oh sorry, I forget this one… A LIAR.
9. If you are still being a jerk, that means you haven't still met the right girl. Go and find somewhere else. 
10. There is no doubt that you have the desire to meet your prince charming. But, who told you that, you're a princess?
11. Before applying, ensure that you are qualified, confident, and ready for this role.
12. I'm not interested in opening your package unless it's the first time you're allowing someone to do so.
13. Well, I'm preparing myself for a family dude who respects parents either his or mine. That one who's looking for a life partner to grow old together and have the best time of life.
14. Available for a serious relationship only. Not into playing games anymore. Ohh, Are you interested in a friendship? All right, then.
15. Love yoga, enjoy being in nature, and follow the keto diet. But, I won't force you for any of that, I promise.
16. I like that guy who loves to talk about everything to her mom, including meeting me on tinder. So when I reach his home, I do not have to say anything to her.
17. Seriously I have been on tinder same on earth having no idea what am I doing here.
18. Well, with a profile image like this, do you think I'm here for a marriage or relationship?
19. I'm not going to demand many things from you, I'm independent, So relax.
20. Well, I don't care how busy you're, if you have ever ignored my calls and texts more than two times, plus IF I haven't got any response within fifteen minutes… It'll be OVER that moment. 
21. Loves to make love to and to be loved. I will never judge if you go out with your friends instead of me, but I also do expect the same from you, too. 
22. I'm not here to search for hot dates or anything. But, as an independent girl, I just want to calm down my parents and neighbors at least by showing that I've got a boyfriend, Finally. So, I can work without any pressure. And they can relax, too.
23. Most girls will be after your dog, but I think you'll be after my cat.
24. Share the two things you like and one thing you don't like about girls.
Read next: Best Hobbies That Couples In 20s Can Develop
Best Tinder About Me For Girls To Set Up An Interesting Profile
Would you like some simple and straightforward ideas about how to present your personality? 
Here are some bio examples to highlight your best qualities and shine your girly nature. 
For creative inspiration, check out this next list of 'tinder about me ideas for girls' to present yourself boldly.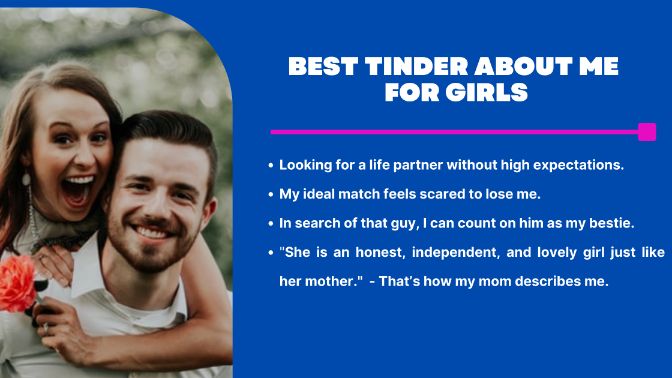 1. I do not aim for a perfect relationship. Just someone with whom to have a good chat about today. 
2. It isn't enough to judge me based on my Tinder profile, we only need to meet once. 
3. I would rather be with someone who is looking for a bright future together than with someone who just wants to make their ex jealous. 
4. I'm a normal girl looking for a life partner without high expectations. It's just two pages long.  
5. Prefer a truly honest man, who stays true to my face. That honest guy who would call me 'how do i look' up front, even after eight years of marriage. 
6. My future date will be the guy who never fails to surprise me with his funny jokes or silly pranks. 
7. Actually, I don't expect anything from that guy except that he feels scared to lose me. 
8. As a proud girl, I value my life and respect myself. And if you're lucky, I'd love to share them both with you. 
9. I hope to spend my life with someone who never forgets to share good morning and good night wishes even after we are married. 
10. I'm hoping to date a guy who just never forgets every special day and makes me feel special about myself. 
11. In search of that guy, I can count on him as my best friend rather than just my partner. 
12. My man will have to be 'that confident' enough to take my side and courageous enough to take me out while my gym-trainer father watches. 
13. I am looking for a long-term relationship with someone who is willing to invest in me as my partner.
14. As an architect, I've been building houses for others, but now it's time to build my life with someone. 
15. I'm the girl who makes it hard for you to impress her, but you won't give up either. 
16. I have already met a lot of people who are crazy about looks, but I'm looking for someone who is honest, passionate, and 'good-looking'. That's it. 
17. In search of a guy who loves me the way I love myself. You can call it a sense of pride, but I'm just an independent woman.
18. Building a home is quite tough alone, let's make it together and live together.
19. She is an honest, independent, and lovely girl just like her mother. That's how my mom describes me. 
20. I'm a bad girl for a bad guy, a good girl for a good guy. I'm flexible, you'll know.
21. Not a girl you will let her win just to make her laugh, but a 'Pro-gamer' that beats you every time.
22. What is your intention when you send me a match? Just tell me.
23. There will come one girl in your life that would change your life and everything would be so good or fresh in your life. I'm not sure If I can do that. So, sorry.
24. Others give one, but I will give you two chances to impress me. At first text and first date.
Read next: Deep and Savage FWB (Friends-With-Benefits) Quotes
How To Make A Good Tinder Profile For Girls?
Compared to guys, writing a tinder bio for girls is more difficult and requires more attention over what to write there.
Well, having an attractive picture or selfie as a tinder profile picture seems enough.
But, the clever bio lines keep that faker away letting them know that 'a girl is not available for everyone'. 
Indeed, girls do expect the right match, a good connection that is worth their time and attention. 
Although her profile pictures attract a lot of attention, what she talks about herself in the profile gets her the right attention. Also, that doesn't let the wrong people in. 
Tips on Writing a Tinder Bio for Girls looking for a 'Real Man'
Want some quick tips on how to make a good tinder profile for girls?
Then, here you'll find the right ways to write an effective tinder bio.
That way you can showcase your personality well, and find the right match without wasting time.
Of course, you are unique, there is something special about you.
So first know what makes you unique and special, then highlight that on your tinder profile.
Don't feel shy or reserved when it comes to expressing what you like or dislike. 
Let the future date know, that you love yourself and are actually confident about being you. 
2. Give a guy hints about your nature through your profile. 
A Tinder profile is never meant to be your personal diary.
Try not to reveal too much information about yourself.
It's always a good idea to share something interesting enough to make a guy wonder about you. 
You can give hints in your profile and let them guess on their own.
But, never give everything about you, ultimately.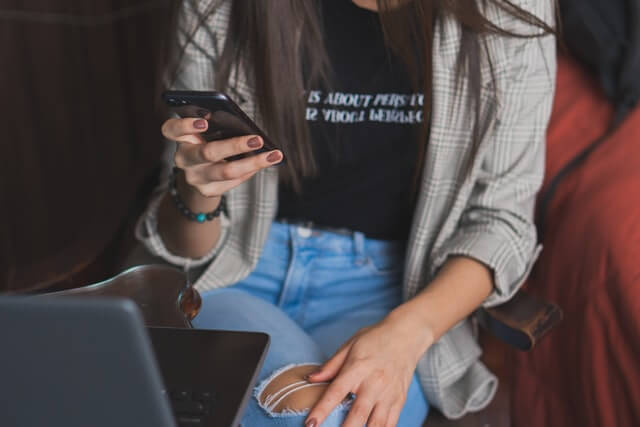 3. Write something funny, creative, and unique. 
Be creative and funny in your tinder profile, and make your profile unique, like you.
Whether your goal is to get more guys to chat online or for a serious date, adding the unique, creative & funny side of you in your bio, works like a charm.
In this case, we suggest you refer to this article that discusses the two truths and lie examples and ideas.
This helps in building curiosity as well as making the interesting conversion possible with a guy. 
Don't just look beautiful, let them feel beautiful with your unique bio lines.
Read next: Great Replies To 'Hi' or 'Hey' On Tinder
4. Prefer a short, simple, and straightforward approach. 
You should be selective in your approach and let potential match (guys) know precisely what you want and who you want at the dinner table.
List the qualities you expect from a guy in a direct or passive manner…
So you'll save your time as well as that guy from getting rejected later on.
Write concisely, use simple words, and convey your intentions straight up. 
5. Focus on getting quality attention rather than a lot of. 
You will more likely receive the wrong attention, if you strive to attract mass attention to your profile, anyway.
Be extra careful.
Do not focus on getting the most matches; instead, focus on getting quality matches.
Always be confident with what kind of guy you're looking for as a date or partner.
Whoever the guy is, he has to think twice before approaching you.
Because girl… you're not for everyone. And, not everyone can afford you! Be YOU!
Read next: 60 Unique & Different Ways to Say Goodnight
Conclusion: 
So these are some of the best Tinder bio lines for girls that we want to share with you. 
We hope that you get some best ideas from these bio examples and know 'how to write your Tinder profile' to get not only just attention but quality matches to your profile. 
Feel free to use any of the presented best tinder bios for girls or you can create your one taking inspiration from this great list.
Let us know which profile taglines resonated with you and which one you're going to use, Don't forget to share your thoughts with us. 
And yes, All the best for forthcoming tinder adventures.