Last updated on July 12th, 2023 at 04:54 pm
Are you sure that your Tinder bio sounds attractive at first sight? 
No matter why you're on Tinder (for hookup or relationship), your 'UNIQUE' intro lines present you 'as you are'.
You shouldn't take the 'introduction' part lightly. Take it seriously.
After all, it's your Tinder 'About me' that can make or break your chance to get a match.
So, Be careful with what you write in it.
When confused, get ideas from the best Tinder bios for guys like these ones.
Such examples help you make your introduction more attractive, creative, and effective.
This post covers the ultimate collection of THE Best tagline ideas to simply copy-paste into your tinder profile.
This ULTIMATE Collection Of Tinder Bio Examples (For Guys) Covers
No matter what your goal is- a perfect match, a casual date, a chat partner to talk dirty with, or a serious relationship…
We have the relevant list(s) for you to achieve your dating goal.
This ultimate collection of Tinder bios for men only works if you're clear about what you really want in a woman.
So, let's check out the lists of best Tinder profile ideas from the males' perspective. 
Good Tinder Bio Lines For Men To Get More Matches
Want to edit your Tinder profile with some feel-good taglines, then here is the list for you.
Try these some good tinder bio lines to give your profile a simple and sober look.
Don't overthink about making the perfect profile. There's nothing like that. 
When you keep things 'Real', you eventually get the 'Right' match who has a 'Genuine' interest in knowing you in person.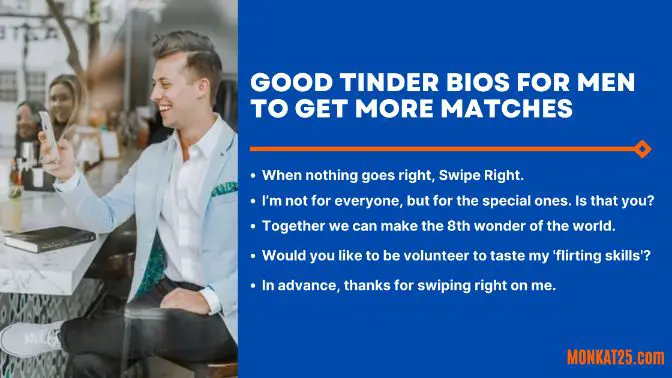 1. One of the most eligible bachelors of the month. 
2. When nothing goes right, Swipe Right. 
3. A good guy with a Pimple needs a girl with a Dimple. 
4. Tired of hookups. The next goal is to find a 'True love'.  Oh, you too? Perfect.
5. What is your definition of the dream man? I can help you find her.
6. It is not fun to be alone, I need someone to get bored together this weekend.
7. My teddy bear broke up with me. Need a new one, urgently. 
8. I need someone who is honest, not perfect. 
9. In advance, thanks for swiping right. 
10. Would you like to try out my flirting skills? 
11. Got blocked on Facebook, and I'm now on tinder. New place, Old game, Baby. 
12. I'm not for everyone but for the special ones. Is that you?
13. My love is so loyal, that even my dog starts feeling insecure.   
14. Take me before anyone gets your opportunity away. 
15. Believe me, together we can make the 8th wonder of the world.
16. Not so tall and dark, but definitely 'a handsome' man on Tinder available to date. 
17. All I need is a girl that keeps me focused on my career more than anything else.
18. Well, I'm good at not everything. But, 'something' enough to make you fall for me.
19. Please wait, Good profile lines are still getting ready.
Read next: Cute Pickup Lines for Your Crush to Text Her 
Short Funny Tinder Bios For Guys With Few Words
Remember, it's just your tinder bio. No need to write your autobiography here.
No one wants to know everything about you at first.
So, relax and edit your tinder profile with catchy and short funny bios.
Plus, if you are looking for the best tinder bio ideas for guys to keep your profile straightforward yet effective then this list will help you there.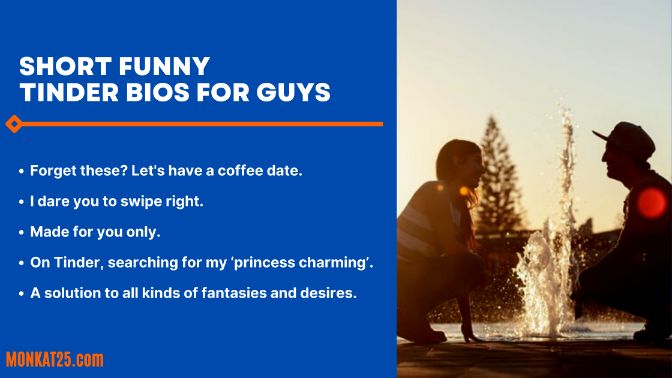 1. Under-construction: Good Bio. 
2. I dare you to swipe right. 
3, Looking for an LTR. If you're serious, too. 
4. Your soon-to-be boyfriend. 
5. Made for you only. 
6. Please, give me a chance to be your Ex. 
7. Vacancies!! Hiring for multiple positions. 
8. Here I'm searching for my 'princess charming'.
9. Life partner required. 
10. I'm here waiting for you. 
11. Not your average dream boy.
12. Share your desires here.
13. You just take the first step. I handle the rest. 
14. A daydreamer with tons of fantasy.
15. Spare my life, Please.
16. Wanna date a funny guy? I'm your man. Surprisingly, I'm also short.
17. What… your last date was horrible? Let's chat about that.
18. Don't worry, you just start, the rest I will handle.
19. Coffee date??
Read next: Different and Creative Ways to Say YES
Best Tinder Bios For Guys Copy and Paste Into Your Profile
Sharing the perfect list of some unique, fresh, and best tinder profile taglines that a guy can use to get inspiration.
To seal the deal, make sure you're leaving a good first impression.
Try giving some message or secret clues from your tinder bio ideas to make your prospect date(s) feel excited about your first meeting.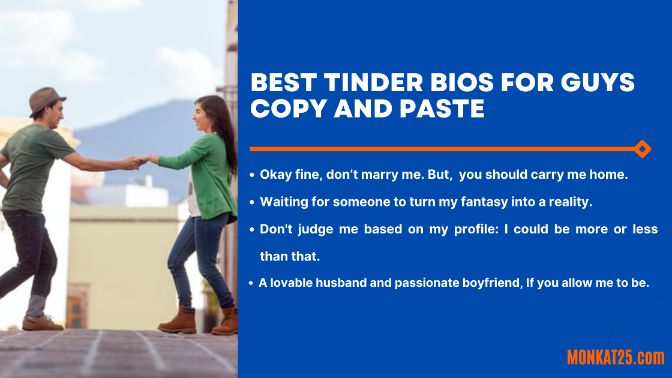 1. I can see you blush to see my profile. Swipe right. 
2. Surprised to see me here on tinder. I'm too surprised to see you, as well. 
3. You will only get one chance. So, Beware first. 
4. Facebook is an addiction. So, I use Tinder without fail. 
5. Want to bring excitement to life? Then swipe right. 
6. I'm here with nothing. But yes, together we can make everything. 
7. All you need is someone to listen to your boring stuff. 
8. Of course, I'm weird. But, I'm sure you will love that. 
9. Smarter and wealthier than mentioned in the tinder bio. 
10. Okay fine, don't marry me. But, at least you should carry me home.
11. Saving myself for that special person in life. Is it you?
12. Limited period offer. Grab this 'Guy' only 2 days left.
13. Living in my fantasy world. But, we can make it a reality. 
14. Chase your dreams, but don't chase me anywhere.
15. I might not have muscles to show off, but guts to ask you for a date.
16. If you will take me seriously, I will take you personally. You have my word.
17. A lovable husband and passionate boyfriend. And, I'm one hundred percent overconfident about that. 
18. Judging me simply by my tinder profile, I don't think we're off to a great start. We better chat, though.
19. Not bragging about myself, but I'm totally different than the normal man on tinder.
20. Well, I'm not the type of guy you dream of, but the type of guy your parents looking for you.
21. All I'm here waiting for my dream girl to come and give me a reason to live every day.
Read next: OkCupid My Self-summary Examples
Funny Tinder Bios For Guys To Make Your Potential Date Laugh
Not getting enough swipes or responses on tinder?
Probably, your bio isn't that impressive enough.
Stop being so boring, though. Try these funny tinder 'About Me', instead.
Add some creative wit or present yourself in an entertaining way to spice up your profile.
And let's hope that such witty tinder bio lines for guys will make your profile noticeable from the rest men in the 'Date' field.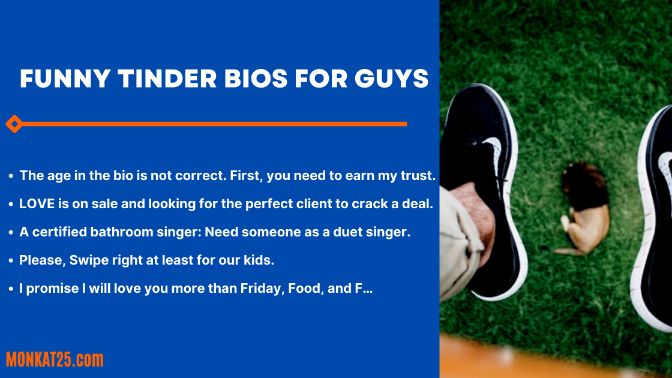 1. No more '50 shades of grey' for me. My imagination is far ahead of that.  
2. Do you want to feel satisfied? Stop expecting too much in the first place. Simple! 
3. The age in the bio is not correct. First, you need to earn my trust.
4. I never take revenge, I just go on the date leaving my purse at home.
5. My love is on sale and looking for the perfect client to crack a deal. 
6. A certified bathroom singer: Need someone as a duet singer/partner. 
7. Let's screw each other's life and leave suddenly. 
8. Not a typical player, but a coach who just entered the dating field. 
9. Please, Swipe right at least for our kids. 
10. Like this shirt? Guess what? It's husband material. 
11. If you think you need to swipe one way, swipe the other way.
12. You'll regret it in life If you don't swipe right on this profile. 
13. I promise I will love you more than Friday, Food, and F… 
14. So busy enough that I have no time to change my Tinder bio.
15. If you think this guy will become an outstanding husband, then you're right.
16. Want to try something different tonight? 
17. The type of guy your family or friend would like to know more about, but your neighbor already knows.
18. Definitely not expecting any dates or looking for a serious relationship (LTR), just cute girls or hot chicks to hire. Actually, my video views are not increasing and someone told me to create an attractive thumbnail. Wanna be my clickbait queen?
Read next: Unique Plus Creative Ways To Say I LOVE YOU
Best Tinder Bios For Hookups That Men Who Seek 'Game'
Looking for hilarious tinder bios to give you more hookup opportunities?
Then, here are our recommended lists of profile lines to follow.
Consider using these bio lines or come up with your catchy or creative profile lines to get more matches on tinder.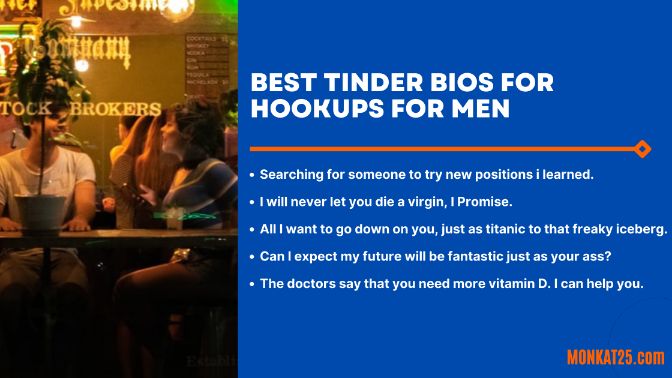 1. Stop fixing anything for me. Just fix our next date, that'll be awesome. 
2. I've survived 2012 and 2020 just for you. 
3. Kids learn from seeing others doing it. Legends learn from actually doing it. Let's become legends together.  
4. Don't follow me, because I'm following you. 
5. After seeing your profile my heart takes control over my mind.
6. Rest now… because you've been running in my mind for the last two hours. 
7. Not an ACTIVE profile. Only a special person can make it active, too. 
8. Pick up and Drop 'it' facilities available. 
9. Need someone who takes me home when I can't go on my own.
10. I'm here only for hookups, not for LTR. What is your purpose?
11. Searching for someone to get bored with. 
12. Well, I don't think Tinder bio section is enough to describe who I am.
13. I will never let you die a virgin, I Promise.  
14. A regular guy whose puppy introduces him to the girls.
15. First, let's impress each other… we will express everything later.
16. I want to date someone who makes me visit my or her home more often than a beer shop.
17. If you're ready for it. Don't worry about me, I'm always ready.
18. I'd like to have someone in my bed right now, just like I need coffee in the morning. 
19. In search of my friends (with benefits) here. Can't promise, that I fall for you.
Read next: Hookup Messages To Text Your Friend With Benefits
Creative Tinder Bio For Men Who Want To Leave 'Lasting' Impression
Need to edit your bio to something interesting and attention-grabbing taglines? 
You don't want to miss among the hundreds of tinder profiles of guys. Of course, you want to make your profile as 'creative and manly' as possible.
So, here is the list of interesting tinder bio examples that will make your profile look creative and stand out from a bunch of those boring profiles of men with simple texts.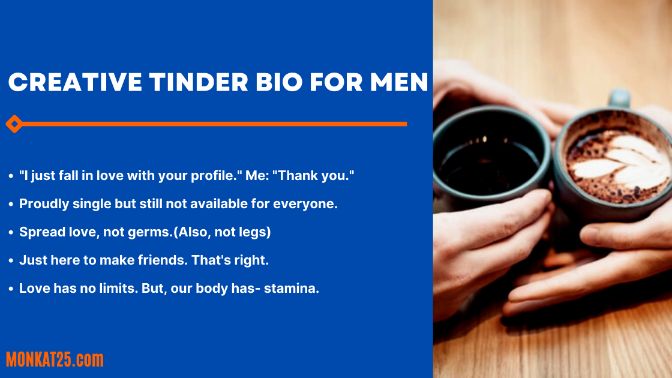 1. Don't expect honesty, Expect satisfaction, instead. 
2. I'm a plumber. For free plumbing supports, swipe right. 
3. A soulmate is available on SALE here. 
4. You're handsome. You're great. Thanks for appreciating. 
5. Searching for someone to change my life positively. 
6. Need someone so that I can focus on my career, better. 
7. Love yourself before expecting love from someone else.
8. Funnier and sexier than your ex. Btw, I'm also rich.
9. Love has no limits. But, our body does have a limit called stamina.
10. Single but still not available for everyone. 
11. Spread love, not germs. 
12. ATTENTION! No drama queen allowed here. 
13. Just won a lottery worth ten million. 
14. I'm here, using tinder to make friends. 
15. How can you say that good guy doesn't exist, when you've not tried me yet?
16. Let's together have the worst date ever.
17. Love kids. I want to have at least two in my home, can't have one by myself… So I need someone to make them for me. 
18. Send me a match if you see me serious and not just a cute one.
19. Believe me, I'm a keeper guy, the rest are just for timepass.
Want to fix your profile on hinge? Then, read this: Funniest Hinge Prompt Answers For Guys
Simple Tinder Bio for Guys Who Seek Casual Dating
It was kind of fun to use some creative and funny tinder bios for guys, but who says simple bio lines make you look old-fashioned?
Some girls still prefer simplicity… over anything that is- overly decorated or overdone.
We hope you find someone who is different or who just likes your normal approach.
Here we will share the simple tinder bios for simple guys to get simple girls who don't expect much. 
Get the 'perfect about me' ideas from the given suggested list of tinder bio lines or you can simply use them as it is.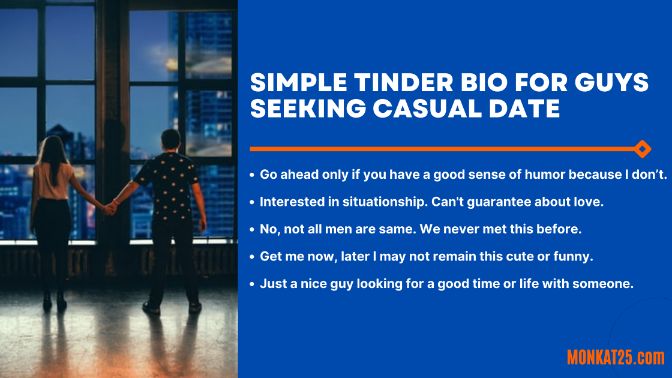 1. Forget about all the hookups and 'get laid' things aside. First, let's be friends and see where things lead. 
2. You can count on me, as I'm an accountant. As, I record everything that I feel has some potential for a good return. 
3. Go ahead only if you have a good sense of humor because I don't. 
4. Not looking for a date or anything like that, just a girl to show up within the next family function. So at least they shut their mouths for a few months, hopefully.  
5. I'm on a mission to spend my whole 20s free of girlfriends and dates. Dare you to stop me from creating this great record. 
6. Interested in friendship. But not here for a serious relationship. So, if you know how to keep things in between that, we can be a better match. 
7. Despite my looks, I am anything but simple. Only an exceptional girl could make extraordinary things out of me. Do you think you're that special girl? Then go ahead and Swipe right. 
8. You have a great sense of taste, your choice is just perfect. I hope you won't disappoint me either.   
9. It's been a long week, isn't it? Let's get together this weekend and have some fun. My name is… and I'm a businessman. 
10. I hope to be a musician one day. In short, I'm here to find my inspiration, who firstly makes me feel loved and then will leave with such 'a pain' that they say you need it to get the music out of my soul. 
11. Inexperienced in the relationship, and I want to have some beginner-level experience so that I can apply for a post that requires a candidate with the experience. This is a job for, A Jr. divorce attorney
12. On tinder, I don't like to share many details about myself. But, yes I can share everything when we finally get at the dinner table, together.
13. I've lived a boring life, so I'd like someone who feels the same way. I don't know what will happen. However, we can at least end up having a great time together or at the very least end up getting super bored afterward, but with a reason.
14. Before you submit your application, please note that it may take some time to hear from us. We receive plenty of applications and have limited staff. 
15. Don't say that all men are the same. We have never met this before. But, when we meet, I promise… things won't be the same.
16. I'm just a regular guy, who has not been in any relationship or dating game before. Just searching for a girl who understands me and wants to be 'my first' of everything.
17. I'm just a simple guy, new in the dating pool, looking for someone to spend a good time with or a better life with.
18. Get me now, later I may not remain this attractive and funny to you.
19. You don't need a guy who impresses you, but a man who keeps you.
Read next: Deep Friends With Benefits Quotes (For Him/Her)
Witty Tinder Bios For Males That Start Conversations With Your Match
In general, girls enjoy interacting with guys who are funny and entertaining. After all, nobody wants to get bored, right?
 A girl expects to have an exciting conversation with a Tinder match, either on a very first chat or date.
Use our next list of best tinder bios for men that cover better profile lines that definitely will earn you a swipe right from a special girl.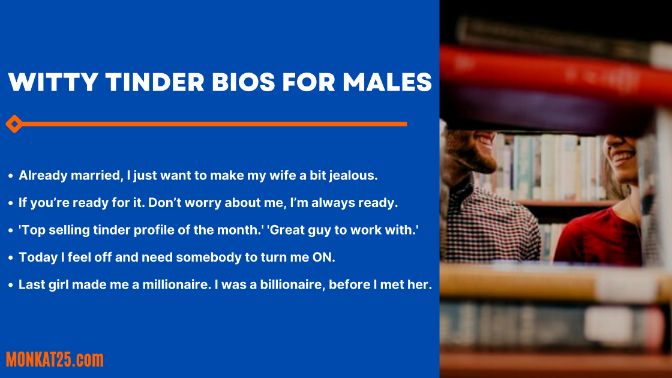 1. Profile with the highest IMDB rating profile. (International Men's Dating Board)
2. Already married, I just want to make my wife a bit jealous. 
3. I'm not perfect. You're not perfect. We can get imperfect together. 
4. I will count it as YES unless you say something. 
5. All I expect is that my future will be fantastic, just like your perfect ass. 
6. Ups and downs are part of our lives. Why are we so afraid of doing that?
7. All I want to go down on you, just as titanic to that freaky iceberg.
8. I have consistently gotten 'F' since I was in school. Interested in finding out why?
9. I will give you my keys. Especially when on a first ride, you drive me crazy.
10. Today I feel off and need somebody to turn me ON. 
11. Sleeping alone no longer appeals to me. Need someone to share a bed with. 
12. The doctors say that you need more vitamin D. Can I help you?
13. If life ever makes you a potato, then make sure you are the sweeter one. 
14. Here on tinder to chill and I have nothing to impress you.
15. What our clients say about us: Top selling tinder profile of the month. Great guy to work with. I'll try again for the next service. 
16. My mother wants me to get married. That's why I've come here to look for one. Wanna be the one?
17. I'm the pirate that will bring your treasure out, no matter where you hide it and take it away, along with you.
18. The previous girl made me a millionaire. Btw, I was a billionaire, before I met her. 
19. If you keep scrolling, you seriously have no idea what you're missing.
Read next: Funny Who is Most Likely To Questions
Dirty Funny Tinder Bios For Guys To Have Spicy Chat
This can be used either as a bio tagline or a pickup line on a girl that you know well.
Each of these dirty pick-up lines should be used with extra caution. We want to inform you that this list is just for naughty entertainment.
So, please don't try this at home, school, especially at work, or anywhere else. 
Remember:  It looks cute to use such dirty pickup lines with someone you know very well. Not to mention, only with someone you have been dating for quite some time.
BE CAREFUL, before using such lines on the complete stranger or new girl you just met.
Since that may make you appear like a jerk from the very first meeting.
Not only on tinder but on any other platform, Always respect the other person… Before you go for such crazy fun.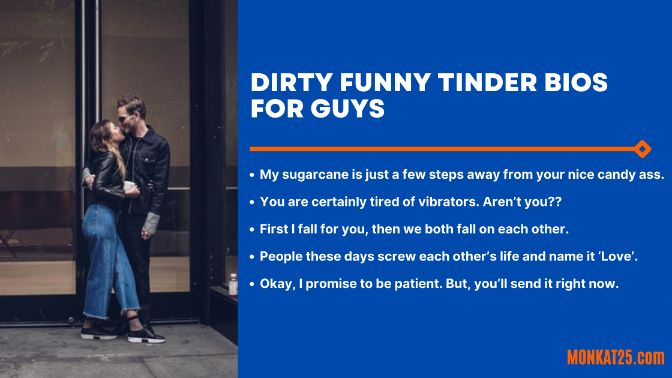 1. Let's play a game together. Imagine you are 6 and I am 9…
2. You are certainly tired of vibrators. Aren't you??
3. I don't believe in the number of games, still, I prefer 36-24-26.
4. Have you been feeling tired, without any reason? I can give you one PERFECT reason. 
5. It seems like your clothes are dirty, why don't you just take them off?
6. My sugarcane is just a few steps away from your nice candy ass. 
7. I need some kisses urgently. It will be returned to you with interest, Trust me. 
8. First I fall for you, then we both fall on each other.
9. I will never let you GO, but I will definitely let you GO down. 
10. Okay, I promise to be patient. But, you'll send it RIGHT NOW.
11. Could you please provide a practice example of a one-night stand? 
12. People these days screw each other's life and name it 'Love'. 
13. I may seem like an average guy. But, I have something to change that stereotypical image of me.
14. Just landed in this new town for the first time. A single person who is alone and scared. Of course, I'm inviting you (girls and robbers) to my place. 
15. Can I park my private jet in your lot tonight? I promise I will take it by tomorrow morning.
16. There will come a time when you have to say, 'Be gentle, man'. Because you make it really hard for your gentleman (Probably me!).
17. On Tinder, I am the only honest guy openly admitting, "Yes, I am here just for hookups. That's all I need."
18. You're beautiful. I'm strong. Believe me, our kids are going to be superheroes. Let's do something for our nation.
19. Here to spread loves not legs. I mean that's also a goal, but that's next-level love.
20. Please remember my name. You will need it while screaming tonight.
21. My D wants to be around your C. (It's D for Dog, and C for Cat.)
Read next: Funny Replies To: "What Do You Like About Me?"
Naughty Tinder Bios to Get Laid That Works for Men
There's no need to be shy, you're not the only one who is on tinder for simply getting laid.
However, if you're one of those hard-luck men who are still unable to get such chances through this platform, the following special profile lines for tinder might help you.
Presenting the list of tinder bio lines for guys to get laid within a few swipes and without much waiting.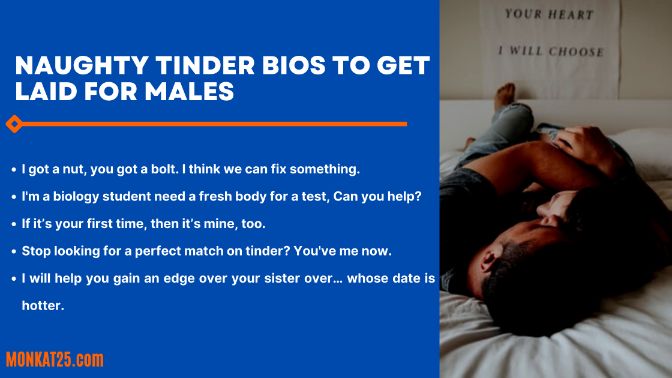 1. If it's your first time, then it's mine, too. 
2. Currently, I'm a student of biology. And I'm looking for some fresh bodies only for testing purposes. Can you help me out?
3. It seems that every guy wants to get into your pants, but I'm not one of them. I will wait till they get out and then I will get in. 
4. I got a nut, you got a bolt. I think we are supposed to fix something. 
5. Looking for someone who is serious about relationship, ready, and excited for something, and not one who is spoiled, wasted, or used by someone else. I hope this idea is clear to you. 
6. Since I am so over with the idea of marriage, even on tinder I am using my uncle's picture as a profile pic, to avoid getting any more requests. 
7. I want to be 'that man' who makes you so happy, complete, and satisfied that you immediately delete the tinder app, and just retire from the dating game.
8. I promise to be there for you when you feel alone or if you want to do something together. An activity that is much more enjoyable when it's done with someone else than doing it all alone. 
9. What do you want? Keep screwing by life or by someone who will give you pleasure getting screwed, like myself. 
10. I've been fantasizing a lot about what the perfect night would be like. If you have similar interests, then swipe right. 
11. Don't take your life seriously. Well look at me, no one takes me seriously, either. 
12. Still unable to find the perfect match on tinder? Well, how could you, because we have never met before. And if we've never met before, then swipe right. 
13. Are you interested in creating a world record for 'the shortest duration when two strangers come so close to each other'?
14. Feel free to contact me if you're here only to get laid. By the way, I'm your guy.
15. I will help you gain an edge over your sister over… whose date is hotter.
16. If you take yourself seriously, I'm there for you for a lifetime. If you're not taking yourself seriously, I'll be there for you for just one night.
17. I'm not going to use any pick-up line for you. You're a girl, I want to go on a date, not a parcel to pick up to my bed.
18. I'm sorry, but if my bio is not going to impress me, nothing else will.
Read next: Alternative Responses To I LOVE YOU
Best Tinder Bio Quotes For Guys
Want to pass your messages with unique meaningful quotes and profile lines? Well, this is a perfect list that can help you.
Here is a collection of the best tinder bio quotes for guys, which definitely will add a creative touch to your profile.
Make them your profile description or as tinder captions ideas, these are some unique and the best lines you can use.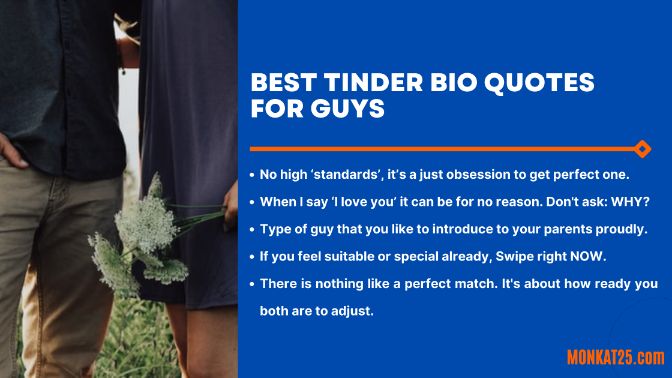 1. Ladies first. Make your first move by swiping right. Then it's my turn. 
2. I'm here looking for someone, who is also looking for a relationship. But, if you also feel lost on tinder… No worries, together we will get our way out of it. 
3. Neither interested in hookups nor one-night stands. Even one reply from any girl is enough to keep me hopeful for my entire life. 
4. Whether you believe it or not… But, there is that one person for everyone. I still haven't found mine, have you?
5. The ones you've been searching for are here, just waiting for you to swipe right. 
6. It's not 'standards' of mine that I've are too high, it's just you who isn't the right match. 
7. I'm here searching for my high school teenage crush, hoping we can again start that secret story that we were not able to complete. (Ps.: Till then, I'm available for anyone.)
8. You deserve someone better than me (Every girl I met Before You). Hopefully, you're the one they were talking about.  
9. I don't care if you are cute or beautiful or not, but when I say 'I love you' it can be for no reason at all. So don't ask me to clarify it, next time. 
10. I'm not here because I feel lonely, I'm here because I know there is someone who needs my company. Is that you?
11. This is just a dating app, not a company with vacancies. So, do check your interest and skills first. If you feel suitable, only then apply. Okay??
12. I know I'm not perfect, and neither are you. If you think that you're perfect, then I guess you won't be here.
13. While there is light at the end of the tunnel, the issue is how to deal with the fear of being in the dark. 
14. Well, I'm an honest person: No one on tinder, ever dares to say. 
15. There is nothing like a perfect match. Either you learn to adjust or force your partner to change as you want them to. 
16. Right one will come to you at the right time, whether you use tinder or not. So, don't go here and there. Instead of that, do something that actually adds value to your life.
17. I'm the type of guy that you like to introduce to your parents with pride and confidence.
18. Swipe right on me, because everyone who knows me, admits that "I'm a big deal."
19. Once you have me, you don't even need tinder. Believe me. 
Read next: Great Two Truths And A Lie Idea for Dating Game
Best Tinder About Me for Males To Let Your Personality Speak
The simple profile line 'tell me about yourself' always catches us off guard, whether that's for presenting yourself in an interview or writing a dating profile.
Because…
When presenting yourself for the first time, there's always pressure on you not to appear cocky or incompetent.
If you're unsure what to include in your tinder profile about me section, here are some ideas.
With these interesting and funny tinder about me lines for guys, you can step up your dating game.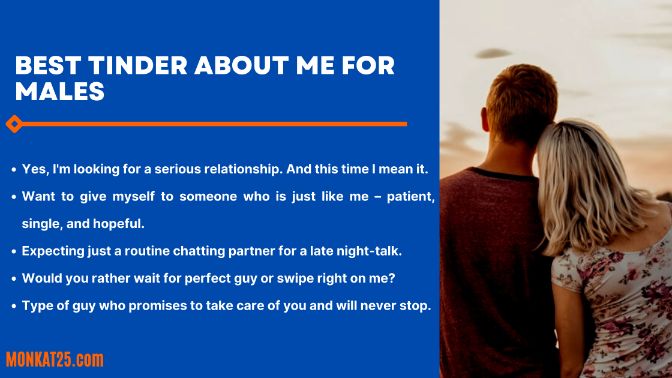 1. You can call me old-fashioned, but I prefer writing love poems for you and arranging our secret meetings without our parents' knowledge.
2. I am just a regular guy looking for a serious relationship. And, at this time I mean it. 
3. A guy with two businesses, owns a house, and drives his own car, but is unable to find the right person to share these with. 
4. What would you like to know about me? You'd better ask me on the dinner date. 
5. If you're looking for the perfect man to share your love with you, you can count on me. And, I'm also willing to give it my all to you. 
6. Well, I'm the guy who can be everything you're looking for. But before that, just clarify… what exactly you're looking for. 
7. I'm already ready for a serious commitment and to do everything for our future, except the one thing, waking up before 7.
8. I'm that friend you always want to meet on weekends. I can also be the partner you want to sit beside, relaxing and talking about how your day went at the job.
9. It would be my pleasure to be the guy your parents caught you smiling and asking, "Who is he?"
10. Ideally, I would like to meet a girl who is my age, scared of getting older, and desperately seeking a man who is looking for a serious relationship.
11. Since I've been single my entire life, I love to give myself to someone who is just like me – patient, single, and hopeful. 
12. Highly dynamic personality and flexible nature. My tastes and hobbies do change as per the girl I talking to. So, consider what you like I like the same. 
13. That'll be my girl who instead of making fun of me, gives me tough competition in the fart game. 
14. Just a simple guy, nothing want extra or special. Just a routine chatting partner to talk to before sleep. 
15. Would you rather wait for some perfect guy or simply swipe right on my profile and allow me to be your man? 
16. No matter what, I'll never give up hoping to find my soulmate on tinder. Can you help me to prove my friends wrong, as I bet?
17. Definitely not a guy who affords to give you costly gifts, but the one who promises to take care of you for life and will never ever stop doing so.
18. If you're looking for someone with a great personality and success already, I'm not your match. I would rather have someone with big dreams and actually ready to get famous and rich together.
19. SO, you were searching for me, lately? Don't worry, finally, you've me now.
Honest Tinder Bios For Men Who Looking For A Serious Relationship (LTR)
Although Tinder is primarily used for casual dating and hook-ups, it does offer the opportunity to find the love of your life as well.
But, for that, you'd be better off being honest when writing your tinder profile description.
Make sure you reflect your commitment to a long-term relationship well.
If you're serious about a relationship (LTR) and looking for a life partner on tinder, then this is the perfect list of tinder bio examples for guys.
Plus, this will help you present yourself as 'Husband material' to girls with similar goals.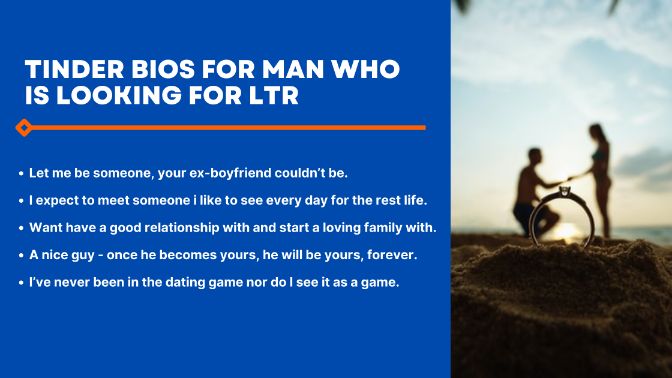 1. Don't get me wrong, but I am looking for my soulmate on tinder. Look at my profile picture… yeah, I'm that serious. 
2. I'd be happy to share my WiFi password with you, if you're also interested to share your life with me, as my WIFEY. 
3. If you're like me then you are also scared of biological clocks, really in search of the right person to start a life with and move out of their parents's home as quickly as possible. 
4. Let me be someone, your ex-boyfriend couldn't be. Let me reach that level your ex has never been. Let me be your husband.
5. Not all boys are the same. I'm a whole different animal on Tinder. A good thing is, I would certainly consider marrying you.
6. Casual dating and hookups isn't my cup of tea. I expect lifetime commitments. And, that one person I would really like to see every day of my life.
7. Flexible and understandable, I'm a great guy. Even my boss will recommend someone to me. Yeah, I'm loyal, honest and someone you're not going to meet on tinder every day. 
8. I don't mind if you are short or tall, thin or thick. If you accept me for who I am, I will never judge you ever. Neither do I expect anything from you, except a lifetime commitment, which I will give you. 
9. Until now, I have been in a lot of crushes and am just tired of them. I really and truly want someone to remain in my life forever. This time, I promise to say what I want to say without hesitation.
10. Seeking someone to have a good relationship with and start a loving family with. 
11. I'm not a guy you meet on one night or one date and then forget about each other. Just an honest and simple guy who, once he becomes yours, will always be yours.
12. About Me: Show that you're serious about relationships, and more interested in making your whole life good than just one night. 
13. I am the men you're looking for if you expect a family guy who is caring to make you feel like 'home' and also a romantic husband as hell.
14. This casual dating, a one-night stand is for kids. I would rather marry a girl, have our kids, and make everyone happy in the house. 
15. Not believe in short-term fulfillment, I am more of a person with a lifelong connection. If you're looking for someone to look up to for the rest of your life… trust me and just swipe right. 
16. Honestly, I've never been in the dating game nor do I see it as a game. Here on tinder, I'm in search of someone to live a good life with, and that is by showing love, respect, and great care for each other.
In search of the perfect questions to use on Bumble profile? You better read this: Best Bumble Prompts and Answers For Guys which covers the most creative, funny, and perfect prompts and their responses.
How To Write A Tinder Bio For Guys To Leave 'Effective' First Impression?
So far, we have looked at some great and funny bio lines to use on your Tinder profile.
Now, to help our struggling brothers out there, we will share some tips on writing a good Tinder bio for guys to get more matches.
Also, a good-looking profile for men leaves a lasting impression on first-time profile visitors.
It doesn't matter if you are looking for a dream match, your next date, or want to get laid…
Everything starts with that first 'Good' impression you have from your cool profile.
Regardless of how smart or creative you are, before making a first interaction possible, you need to have an attractive tinder profile that makes girls wonder about you.
The upcoming tips on writing good tinder bios are for you guys, who want to make the most of the tinder game.
Tips On Writing The Good Tinder Bios For Men
Here are some quick tips to write your tinder 'About me' more unique, creative, and effective.
That way, you'll get more matches… as more girls are taking you seriously NOW.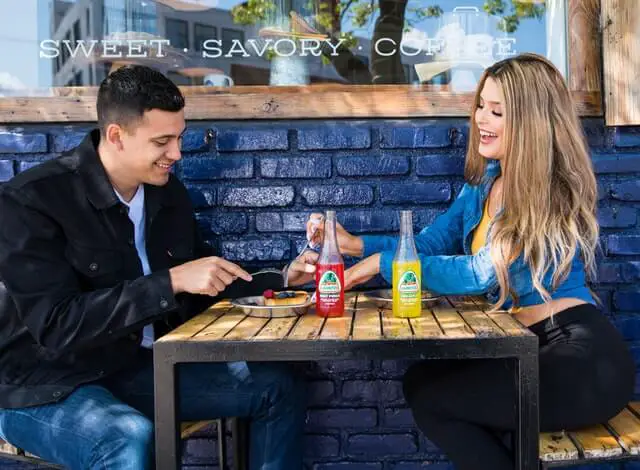 1. Don't just try. Be a genuine and honest guy, she can rely on. 
Whether in a friendship for life or a relationship for the ages, honesty is the key element to any successful connection.
Especially on tinder, being genuine is a must.
Well, there is no standard rule of what you should write on tinder, but it has to be unique plus 'REAL' rather than just adding them to impress anyone, anyways. 
Of course, you can be creative or funny if you are feeling confident in that way.
But, always be honest and upfront when expressing your ideas, feelings, and yourself. 
2. Have your one-liners ready. 
Well, One-liners on tinder is a perfect matchmaker. That helps you get closure to your right match.
Pickup lines or one-liners cost nothing but your sharp thinking.
And when you write such witty tinder one-liners that impress the girl who is reading your profile right now.
The one-liner can come from your past experience, your unique name, your hometown, or your surroundings that make the girl just curious about you and to hit 'Swipe Right'.
Also read: Perfect Reasons To "Swipe Right Or Left" On Dating Sites
In the tinder 'about me' for men, you can tell a bit about yourself and who you are. 
Be careful not to use it just to make her laugh with cringe jokes.
Indeed, it's a good idea to make her laugh. Present yourself as a fun guy. But, without allowing others to treat you like a clown.
So write a clever tinder bio discussing something about you that she cares to know.
Keep it simple and short, letting her know that you're a perfect man for her.  
4. Make sure you know what you want on tinder. 
Once your goals are clear, you know how to write your tinder bio and what to add to your profile description.
Whether you're looking for a girlfriend, a date, hookups, or just a friend… Be clear about what you want.
With such specified goals, you have a clear idea of what to add as your hobbies, interests, past experience, or your expectations.
For help, you can read this article discussing five words to describe yourself for the interview or for the dating profile. 
5. Ask some questions or Add a 'call to action'.
Writing a tinder bio for men is more like writing marketing copy.
Here, you're trying to sell yourself to the girl.
Therefore, make sure you include the necessary elements to prove you are a fair deal.
In the last section of your tinder bio line, you can add a hook, a call to action, or engaging questions that work as 'a link' between you and the girl.
With such hooks, she will exactly know what to talk about in the first message as well as how to start the conversation and keep it going.
Refer to this list of the best questions to ask a girl on tinder/bumble after getting matched with her. 
When your Tinder profile is set…
After having set up your profile, you might be looking for the perfect tinder pick-up lines.
Something that's not so cheesy but an impressive one, Right?
Then, don't worry, we've got a list of the great tinder pick-up lines for guys as opening lines or engaging chat-up lines to introduce yourself to a girl for the first time.
It's time to update your Tinder bio, Now!
Tinder success is not all about the awesome photos in the profile.
From time to time you also need to edit your profile with some catchy taglines, status, and bios. 
If you've not got any match with tinder, better have an attractive profile that girls can't resist ignoring.
Well, we can't do anything about your personality and pics.
But, you can get ideas from these presented lists of the best tinder bios for men, to make your 'About me' interesting.
See, what other men include in their profiles, How they present themselves.
Learn from such ideas. Then, write your tinder bios, following your creativity and uniqueness.
Refer to more examples and templates before you write a single line in your bio.
Else, pick the most appropriate and best tinder bios for guys that you can copy and paste to your profile. 
You just pick the examples that suit your preference, mood, and intention of the tinder game. 
Stay tuned with us and we will come up with more profile lines and tinder bio ideas for guys.
We hope these will help you to meet the right 'match' of your preference, a special 'date' of dreams, or a 'perfect partner' who is also looking for a serious relationship.
Till then, let us know which of the tinder bios lines for guys you found funnier and creative.
You can also share what's your approach to make your tinder profile look remarkable.
Share your thoughts, ideas, and suggestions in the comment below.
Yeah, Good luck with your next match or date(s).